Director of the Defense Contract Audit Agency: Who Is Anita Bales?
Saturday, January 07, 2017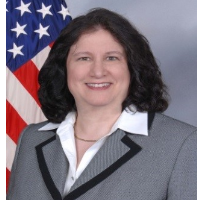 Anita Bales
Anita Bales, whose entire working career has been as an auditor in the Defense Department, took over as director of the Defense Contract Audit Agency (DCAA) on Sept. 8, 2014.
Bales is from Milo, Iowa, where her parents Leroy "Buck" Bales and Edna Bales owned a gas station. She went to Drake University in nearby Des Moines, earning a B.S. in accounting in 1983.
Shortly after graduation, Bales started as an auditor in the U.S. Army Audit Agency's Midwest Region in Rock Island, Ill. In 1988, she was sent overseas as an auditor in the European Region in Frankfurt, Germany. Bales returned to the United States in 1992 as an audit supervisor in St. Louis, home of the Central Region.
Bales took time away from her job beginning in 1996 to work on a master's degree at Syracuse. She earned an MBA in 1998 and returned to work as an audit manager in Force Management Audits in Fort Belvoir, Va. In 2001, Bales was made program director for Financial Management Audits in Alexandria, Va. She remained in that office in 2006 when she was named deputy auditor general in Forces and Financial Audits. In 2011, Bales was made deputy director of DCAA, a post she held until being elevated to the top spot.
Bales and the DCAA aided in the prosecution of high-ranking Navy officers and others in the "Fat Leonard" bribery scandal, in which a rear admiral pleaded guilty to accepting favors from Leonard Glenn Francis, who pleaded guilty in 2015 to bribing Naval officers to use his ship facilities in Asia.
-Steve Straehley
To Learn More: