Director of the Bureau of Economic Analysis: Who Is Brian Moyer?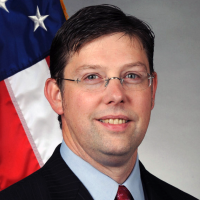 On September 21, 2014, Brian C. Moyer was installed as the director of the Bureau of Economic Analysis (BEA). It's the culmination of a career that began in the bureau right after he finished college.
Moyer attended the University of Maryland, graduating with a bachelor's degree in economics in 1990 and following that with a master's degree in 1993. He joined BEA that year and began to work his way up in the agency. In 2002, he earned a Ph.D. in economics from American University. By that time he was chief of the GDP by Industry Branch.
The bureau is responsible for collecting and publishing economic data and research and analysis. Government, business and the public use BEA findings to track the nation's economic performance. One of Moyer's recent posts at the bureau was as associate director of the Industry Accounts Directorate. Industry accounts measure what a specific industry contributes to the Gross Domestic Product, what resources go into the industry and which ones come out of it.
Some of Moyer's research has been directed at improving statistics related to measures of volume and prices, productivity and uses of intermediate purchases by industry. According to Eric Morath of The Wall Street Journal, Moyer also "led efforts to develop measures for intangible and high-tech goods and services and foreign direct investment."
His research has included co-authoring papers such as "Integrating Industry and National Economic Accounts: First Steps and Future Improvements" (pdf) and "Future Directions for the Industry Accounts" (pdf).
Moyer became BEA's acting director in May 2014 when the previous director, J. Steven Landefeld, stepped down. If Landefeld's tenure is any predictor, Moyer might be at BEA for a while; Landefeld led the agency for 19 years.
-Steve Straehley
To Learn More:
List of Publications by Brian C. Moyer
Meet Brian Moyer, Director of the Bureau of Economic Analysis (AMSTAT News)