Director of Defense Media Activity: Who Is Ray B. Shepherd?
Saturday, September 20, 2014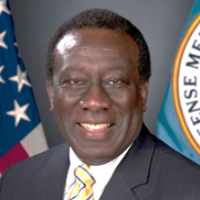 In February 2013, Ray B. Shepherd, a former Air Force public affairs officer, was named Director of Defense Media Activity, which handles public relations for the Armed Forces and supervises publications directed at the military community, such as Stars and Stripes.
Shepherd is the son of a member of the Air Force and graduated from Madrid American High School in Spain in 1970. He attended Texas A&M University, working as a sportscaster for a local station to pick up extra money. He earned a degree in journalism in 1974 and was commissioned as an Air Force officer that year. He subsequently earned an M.S. in management from Troy State University and an M.A. in communications from the University of Oklahoma.
Shepherd remained in the Air Force more than 29 years, working in public affairs. Among the events he had to deal with in that capacity was the 1996 plane crash that killed Secretary of Commerce Ron Brown and 34 others in Croatia. Shepherd also had stints as commander of the Armed Forces Radio and Television Service Broadcast Center, chief spokesman for the U.S. European Command and as the public affairs director for the U.S. Central Command, which controls all American forces in the Middle East and South Asia.
Shepherd's first job upon leaving the Air Force was in 2003 as Senior Vice President for Public Affairs and Security for Cendant Corp., specifically in their Resort Condominium International timeshare exchange division. Beginning in 2006, Shepherd bounced around a bit, working as a senior consultant for Definitive Business Solutions, then in 2007 as a director of brand marketing and communications for CIT in the company's vendor finance group.
In 2008, Shepherd was named chief executive officer of the American Red Cross of Northern New Jersey. He took over the group during a down time for the organization and had to cut staff in order to balance its budget. He did help lead the response to the 2009 ditching of a US Airways flight into the Hudson River. Shepherd left the Red Cross in 2011, becoming a partner in the Warwick Consulting Group, where he worked until coming to Defense Media Activity.
One of the most controversial issues since Shepherd has been at Defense Media Activity is the consideration of cuts to Stars & Stripes, the editorially independent newspaper (and now website) aimed at the Armed Forces, due to sequestration. So far, the newspaper is hanging in there.
-Steve Straehley
To Learn More:
Series of 'Good Jobs' Led Col. Ray B. Shepherd to Doha, Qatar (by George E. Curry, NNPA News Service)