Comoros' Ambassador to the United States: Who Is Soilihi Mohamed Soilihi?
Saturday, January 10, 2015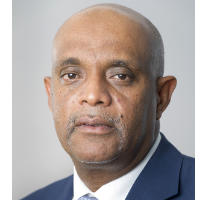 Soilihi Mohamed Soilihi presented his credentials as ambassador to the United States from the Union of the Comoros on November 18, 2014. It's the first diplomatic posting for Soilihi, who is also his country's permanent representative to the United Nations. Located in the Indian Ocean, Comoros has a population of about 800,000.
Soilihi was born January 1, 1964, in Moroni, the capital of Comoros. He attended university in France, Comoros' former colonial power, studying political science at the Institut d'Etudes Politiques at the University of Aix-Marseille.
Beginning in 1990, Soilihi was a correspondent for six years for Radio France International. From 1991 to 1992 he was also the press attaché in the office of the Cormoros president and from 1992 to 1993 he was the director general of Radio Comoros.
In 1998, Soilihi worked in France as a trainer of intercultural approaches. He returned to Africa in 2002 to work at a skills assessment center in Mayotte, which is one of the Comoros islands, but is claimed and administered by France as an overseas department.
Soilihi was made secretary general of the government of Ngazidia, the largest of Comoros' islands, in 2004. In 2006 he was appointed as special delegate to Moroni city hall and the following year he became chief of staff to Comoros' minister of finance. Soilihi moved to foreign affairs, becoming political counselor to the minister in 2009.
In 2010, Soilihi took over as director general of the Office of Radio and Television for Comoros. One of his achievements was to make Comoran television available via satellite.
Soilihi is married with three children. He speaks Arabic, French, English and Swahili.
Comoros does not have an embassy in Washington; Soilihi will be based in the country's mission to the U.N. in New York.
-Steve Straehley
To Learn More: