Commander of the Western Hemisphere Institute for Security Cooperation: Who Is Keith Anthony?
Sunday, September 21, 2014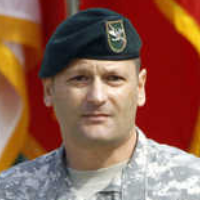 On April 25, 2014, Colonel Keith W. Anthony was named to command the Western Hemisphere Institute for Security Cooperation (WHINSEC) at Fort Benning, Georgia. The primary focus of the Institute is the training of soldiers and law enforcement personnel from Latin American countries, so much so that many of the classes are in Spanish. Some reports say the school teaches coup procedures and has taught torture techniques.
Anthony was commissioned an Army officer in 1989 after graduating from Austin Peay State University with a B.S. in criminal justice and having completed the ROTC course. His early assignments were as a platoon leader, but he subsequently trained to serve in the Army's Special Forces and was assigned to one of those units at Fort Bragg, North Carolina.
Other assignments have included being a senior fellow at the George C. Marshall European Center for Security Studies in Germany, assignment to the Defense Threat Reduction Agency, a nuclear weapons inspector in Russia, an instructor at WHINSEC and a tour in Iraq.
But much of Anthony's career has been spent in Latin America. One posting had him serving as special forces and counter-narcotics advisor along the Ecuador-Colombia border. While there, he served as a liaison for an Air Force medical team performing plastic surgery on Ecuadorans with deformities such as cleft palate and burn scars. He was also Army section chief in Guatemala and his last assignment was as the commander of the U.S. Military Group in Nicaragua.
Anthony has a knack for languages; in addition to English he speaks Spanish, Portuguese, Russian and German. He holds an M.A. in national security affairs from the Naval Postgraduate School.
-Steve Straehley