Chairwoman of the Federal Labor Relations Authority: Who Is Carol Waller Pope?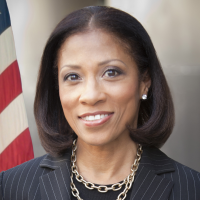 Carol Waller Pope, the first Federal Labor Relations Authority (FLRA) employee to be named to that agency's board, was renominated as chairwoman on April 13, 2015. Established in 1978, the FLRA handles issues relating to labor unions and federal workers.
Pope was born August 21, 1952, in Pittsburgh, where she attended Westinghouse Junior and Senior High School, graduating in 1970. She went on to Boston's Simmons College, where she earned a B.A. in psychology and education in 1974. Pope remained in Boston for law school, attending Northeastern University, earning her J.D. in 1978. During this time she worked for 14 months as a jobs developer for New Careers in Mental Health Program at the Boston University School of Medicine.
Shortly after graduation, Pope went into government service, first at the Department of Labor as an attorney adviser in the Employee Benefits Division. She moved to FLRA in February 1980, first in the Office of General Counsel in the Boston regional office, then, beginning in July 1994, as executive assistant to the general counsel in Washington. In June 1996 she began more than two years as director of appeals and special programs in the Office of General Counsel in Washington. In October 1998 she moved up to assistant general counsel for appeals.
In 2000, Pope moved from labor into management, taking a seat on the FLRA board. Her term expired in 2006, leaving a Democratic seat on the board unfilled until President George W. Bush reappointed her to the panel. She was reappointed by Obama in 2009 and again in 2015. Under Pope's leadership, the FLRA has gone from being rated as one of the worst places to work in the federal government to one of the best. In 2010 the Partnership for Public Service and the American University Institute for the Study of Public Policy Implementation recognized the FLRA as the "most-improved" small agency.
Simmons College gives an award in Pope's name. The award goes to students of color who "demonstrate exceptional leadership through their involvement in diverse campus organizations."
Once married, Pope was divorced in 1998.
-Steve Straehley, David Wallechinsky
To Learn More:
Audio Interview with IBM Center for the Business of Government