Chairman of the U.S. Parole Commission: Who is J. Patricia Wilson Smoot?
Wednesday, February 22, 2017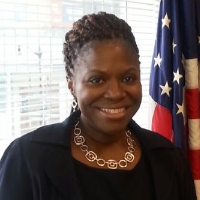 J. Patricia Wilson Smoot
J. Patricia "Trish" Wilson Smoot was designated as chairman of the U.S. Parole Commission (USPC) on May 29, 2015. She had served as acting chairman since Jan. 30, 2015, having been appointed to the Commission by President Barack Obama, confirmed by the U.S. Senate on September 16, 2010, and sworn in November 1, 2010.
Smoot's destiny appeared to be sealed by the time she was old enough to learn that numerous members of her family were medical professionals. Her dream was to become a physician just like her father, who had trained at Harvard University. But by the time she enrolled in college in 1981, a sense of squeamishness over the prospect of working in the medical field put a damper on her plans.
Smoot earned a B.A. in English and sociology (with a focus on legal studies) from Bucknell University in 1985, and a J.D. from Columbus School of Law, Catholic University of America in 1988.
Smoot got a job working as a judicial law clerk for Judge Susan R. Holmes Winfield of the Superior Court in the District of Columbia. While Smoot points to her mother—who had been ill most of Smoot's life—as the source of her strength, it is Winfield whom Smoot credits as her inspiration and source of character-building at that early stage of her career.
Smoot next took a job as an associate at a tort defense litigation firm. Her longtime desire to help those in need led her to become a public defender in Prince George's County, Maryland, but she found that the system's lack of resources hampered her ability to accomplish what she was there to do.
When Smoot saw an interview with then-U.S. Attorney General Eric Holder on television, in which he said that attorneys who excel at defense work make the best candidates for prosecutors, she applied for one of the 15 positions he had available and landed the job. From June 1994 to November 2002, she worked under Holder as an assistant U.S. attorney for the District of Columbia. In that post, she served as a trial attorney, deputy chief of the misdemeanor section, senior attorney of the sex offense division, and eventually director of professional development to oversee the attorney and staff training programs.
In December 2002, Smoot became deputy state's attorney for Prince George's County, overseeing the juvenile and district court divisions, the Domestic Violence Unit, and the Sex Offense and Child Abuse Unit. She concurrently served as an advisor to the state's attorney, Glenn F. Ivey.
Beginning her tenure as a USPC commissioner in November 2010, Smoot worked to establish, in 2012, the USPC Mental Health Docket, which provides non-violent criminal offenders who have mental health disorders with an alternative to incarceration. The program offers mentoring services, job training, and patient treatment opportunities. For several months during her Commission tenure, Smoot also served as USPC acting general counsel.
Smoot is married and has two grown children.
-Danny Biederman
To Learn More:
Meet the New U.S. Parole Commissioner (Law Officer)