Chairman of the Postal Regulatory Commission: Who Is Robert Taub?
Thursday, December 25, 2014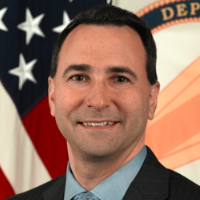 On December 4, 2014, Robert G. Taub, who has been involved with postal issues for much of his Washington career, was named acting chairman of the Postal Regulatory Commission.
Taub was born in Gloversville, New York, northwest of Albany. His mother was a nurse and his father a comptroller for a leather tannery in the town that was once a center for glove-making in the United States.
Taub's political career started in high school, when he folded letters at his assemblyman's local office. After graduating from Gloversville High School in 1982, Taub went to American University in Washington, D.C., where he earned a B.S. and an M.A. in political science. His senior thesis was on President Chester A. Arthur, who took office upon the assassination of John Garfield.
Taub continued working for politicians while in college, interning in the offices of New York Republican representatives Dave Martin and Sherwood Boehlert. During a semester at the University of Leeds in England, Taub also interned for Austin Mitchell, a Labour Member of Parliament. It wasn't all politics, however. According to an article in his college magazine, Taub also wanted to train to be a jockey.
While working on his master's degree, Taub took a job as a staff assistant to Rep. Peter Rodino (D-New Jersey). After finishing school, Taub went to work for the General Accounting Office (GAO, now known as the Government Accountability Office). Taub left government service briefly to work for former Environmental Protection Agency administrator Lee Verstandig, who was by then a lobbyist, but went back to the GAO for five years until getting a call in 1994 from the office of Republican Rep. John McHugh, his hometown congressman.
Taub went to work in the office of McHugh, who was made chairman of the Postal Services Subcommittee. Taub became its staff director for three years beginning in 1998, making him the spokesman for the efforts that culminated in 2006 in the creation of the commission he now chairs. By that time, however, McHugh was no longer commission chair because of term limits. Taub became McHugh's chief of staff in 2000.
McHugh left office in 2009 when he was appointed by President Barack Obama as secretary of the Army. Taub was talked about as a likely candidate for McHugh's seat, but he chose not to run and stayed with McHugh at the Pentagon as his special assistant.
Taub was appointed to the Postal Regulatory Commission in October 2011 and became its vice chairman on January 1, 2013.
Taub and his wife, Cynthia, have two daughters, Hannah and Madeline, who are fraternal twins.
-Steve Straehley
To Learn More:
Taub Is at Your Service (by T.R. Goldman, Roll Call)
City Native Tapped for Commission (by Amanda Whistle, Gloversville Leader-Herald)