Bureau of Prisons Director Resigns after Arrest for Drunk Driving: Who is Harley Lappin?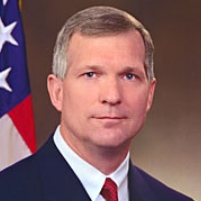 Lappin, the bureau's director since April 4, 2003, announced on March 25 that he would step down. The decision came after police in Annapolis, Maryland, charged him on February 26 with reckless driving, negligent driving and failure to obey the instructions of a traffic-control device. On March 20, he was also pulled over for speeding.
A native of Akron, Ohio, Lappin earned his BA in forensic studies from Indiana University in 1978 and his MA in criminal justice and correctional administration from Kent State University in 1985.
A career public administrator, Lappin first went to work for the prison bureau in 1985 as a case manager at the Federal Correctional Institution in Texarkana, Texas.
He was subsequently promoted to central inmate monitoring administrator at the Western Regional Office in Belmont, California.
In 1989, Lappin moved to the federal prison in Jesup, Georgia, to serve as camp administrator, and then became associate warden for the Federal Medical Center in Carville, Louisiana, in 1991.
In 1993, he was selected as branch administrator of the Program Review Division at the bureau's central office in Washington, DC.
He was promoted in 1996 to warden at the prison in Butner, North Carolina, and two years later, became warden at the penitentiary in Terre Haute, Indiana. Just before leaving this position in June 2011, Lappin presided over the first two executions in the federal system since 1963—the first of which was "Oklahoma City bomber" Timothy McVeigh. The second was that of murderer and drug trafficker Juan Raul Garza in 2001.
He was promoted to regional director of the Mid-Atlantic region in July 2001.
In a memo to his staff, Lappin said, "It is with great humility that I offer my most sincere apology to each and every one of you for failing to lead by example."
-Noel Brinkerhoff, David Wallechinsky