Brazil's Ambassador to the United States: Who Is Luiz Alberto Figueiredo?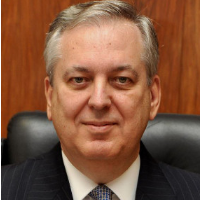 Luiz Alberto Figueiredo Machado, a longtime member of Brazil's foreign service and most recently his country's foreign minister, was confirmed as his nation's ambassador to the United States on April 7, 2015, and presented his credentials to President Barack Obama on May 18, 2015.
Figueiredo was born in Rio de Janeiro on July 17, 1955, and attended college at the Federal University of Rio de Janeiro, earning a law degree in 1977. He went on to study at Rio Branco Institute, Brazil's school for diplomats, and graduated in 1980.
One of Figueiredo's early assignments was to Brazil's delegation to the United Nations in New York, beginning in 1986. In 1989 he was moved to the embassy in Santiago, Chile, where he served until 1992.
By 1995 he had moved up in the Department of External Relations and was named head of the Division on Sea, Antarctic and Outer Space Affairs. The following year he had his first posting to Washington, remaining with the embassy until 1999. He was then sent to Brazil's embassy in Ottawa, Canada.
Figueiredo returned to Brazil in 2002 as head of the Division on Environmental Policy and Sustainable Development. Concurrently with that, he headed Brazil's mission to UNESCO in Paris.
Beginning in 2005, Figueiredo led the Department for Environment and Special Affairs, taking part in climate negotiations with other nations. In 2011, he was named under secretary for environment, energy, science and technology.
Figueiredo returned to New York in 2013 as head of Brazil's UN delegation. He served a short time before being called home to be his country's minister of external fffairs. The previous holder of that office, Antonio Patriota, was put in the UN post after his forced resignation for letting a Bolivian opposition politician, Roger Pinto, into Brazil. Pinto had been accused of corruption by the Bolivian government.
Figueiredo while foreign minister was forced to respond to a somewhat undiplomatic comment by Israeli officials who referred to Brazil in July 2014 as a "diplomatic dwarf." The comment came after Brazil condemned Israel for its use of "disproportionate force" in the Gaza Strip. The Israelis followed up the comment with a snide reference to Brazil's loss earlier that month to Germany in the World Cup. Figueiredo responded, saying "We are one of 11 countries worldwide that have diplomatic relations with all UN members, and have a history of cooperation for peace and international actions for peace. If there are any diplomatic dwarfs, Brazil is not one of them."
Figueiredo found himself on the other end of the get-fired-and-sent-to-America treatment later that year when Brazilian President Dilma Rousseff fired him hours before her second inauguration, allegedly for not having enough experience or knowledge about business as Brazil attempts to grow its economy.
In July 2015, a document released by WikiLeaks revealed that the U.S. National Security Agency (NSA) began targeting Figueiredo's cell phone in March 2011.
Figueiredo is married and has two children.
-Steve Straehley
To Learn More:
Israel Calls Brazil a 'Diplomatic Dwarf' – and Then Brings Up World Cup Humiliation (by Adam Taylor, Washington Post)