Botswana's Ambassador to the United States: Who Is David John Newman?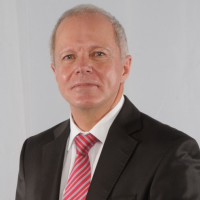 David John Newman
David Newman, who had sat on the bench of Botswana's high court, was appointed in May 2015 as Botswana's ambassador to the United States. Newman presented his credentials to President Barack Obama on Aug. 3, 2015.
Newman was educated at the University of London, where he earned an LL.B. in 1973. He was admitted as a barrister in London's Middle Temple in 1975 and practiced law in London briefly.
He went to Africa, working as a senior lecturer at the universities of Malawi and Botswana. Newman began practicing law in Botswana in 1983. He became a managing partner in Collins Newman & Co., a well-connected law firm in the capital city, Gaborone. Newman was appointed to the high court in 2005.
Newman is close to Botswana President Ian Khama, and is considered to be a member of Khama's inner circle. He was a shareholder in a company involved in some questionable land sales in 2006 involving the government.
Newman is believed to be one of the richest people in Botswana. He has seven children, four of whom joined him and his wife, Changu Newman, at the embassy in Washington.
-Steve Straehley
To Learn More: