Bosnia and Herzegovina's Ambassador to the United States: Who Is Haris Hrle?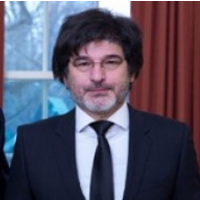 Haris Hrle
Haris Hrle, a career member of his country's Foreign Service, was appointed in September 2015 to be Bosnia and Herzegovina's ambassador to the United States. He presented his credentials to President Obama on January 28, 2016.
Hrle was born in 1963 in Stolac, which was then part of Yugoslavia. He went to elementary school in Belgrade and high school in Sarajevo, then earned a law degree at the University of Sarajevo.
From 1990 to 1992, Hrle worked as a consultant in international law, patents, intellectual property and copyright issues.
As the country was being formed in the aftermath of the Bosnian War, Hrle joined Bosnia and Herzegovina's Ministry of Foreign Affairs in 1993, helping to create its Department of Analysis and Planning, which he led until 1998. That year, he became legal advisor to the Federal Agency for Privatization, managing relations with the World Bank and International Monetary Fund. In 2000, he moved to the Department of Implementation of a General Framework for Peace.
Hrle's first overseas assignment, beginning in 2002, was in his country's embassy in Ottawa, Canada. The following year, he moved to the embassy in Ljubljana, Slovenia.
In 2005, Hrle moved to the embassy in Vienna, Austria and served as chargé d'affaires, becoming ambassador in 2008. While he was in charge there, a Bosnian general, Jovan Divjak, who had been accused of war crimes by Serbia, was arrested in Vienna. Divjak was eventually released without being extradited to Serbia.
Hrle returned home in 2011 to work in the ministry's office of public relations. In 2013, he was made ambassador to Saudi Arabia with responsibility for Oman and Yemen as well, a post he held until being tapped for the U.S. slot.
Hrle is married with one daughter. His mother-in-law, Bisera Turkovic, was Bosnia and Herzegovina's ambassador to the United States from 2005 to 2008.
Hrle has also written several articles on defining his country's maritime borders.
-Steve Straehley
To Learn More:
Ambassador Haris Hrle: In Washington, the State of Bosnia and Herzegovina (Kliker)