Belgium's Ambassador to the United States: Who Is Dirk Wouters?
Sunday, December 25, 2016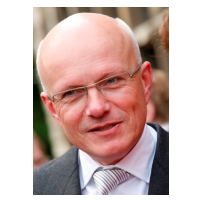 Dirk Wouters
Dirk Wouters, a career member of his country's Foreign Service, became Belgium's ambassador to the United States on September 16, 2016.
Wouters was born in 1955 in Brasschaat, in Belgium's Antwerp province, where his parents still live. He attended secondary school at St. Michael's College, where he played soccer. Wouters went on to the University of Antwerp and earned B.A. degrees in law and economics in 1975. He continued with his education at the University of Louvain, earning a Master of Laws in 1978, and the London School of Economics, earning an M.S. in 1979.
Wouters started with the foreign ministry the following year, initially working in the consular and disarmament departments. He was then sent to the embassy in Rome, handling economic and technical issues. In 1986, Wouters was made part of Belgium's delegation to the European Union. He returned to Rome in 1992, this time working on political and economic issues.
Wouters came to the United States in 1995 as a deputy permanent representative to the United Nations. There, he worked on political, military, economic and development issues as well as participating in the creation of the International Criminal Court.
Wouters returned to Belgium in 2001 as coordinator of the Belgian presidency and led the Department of European Coordination and Integration. In 2003, he was made permanent representative to the Political and Security Committee of the EU. Wouters in 2009 was named diplomatic adviser to Prime Minister Herman Van Rompuy and subsequently was made chief of staff to the Minister of Foreign Affairs. He concentrated on Afghanistan and Libya policy.
Wouters was named Belgium's permanent representative to the EU in 2011, a job he held until coming to Washington.
Wouters is married to Katrin Van Bragt. They have one daughter and two grandsons. Wouters speaks Dutch, French, English, Italian and German. He enjoys long-distance running.
-Steve Straehley
To Learn More: