Assistant Transportation Secretary for Research and Technology: Who Is Diana Furchtgott-Roth?
Tuesday, October 17, 2017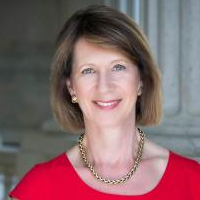 Diana Furchtgott-Roth
Diana Furchtgott-Roth, who served in the Reagan and both Bush administrations, was nominated September 28, 2017, to lead the Research and Innovative Technology Administration (RITA) in the Department of Transportation. Created in 2005, RITA was renamed the Office of the Assistant Secretary for Research and Technology in 2014.
Furchtgott-Roth was born April 4, 1958, in England. She came to the United States with her parents, Ellen and Gabriel Roth, in 1967 when her father, an economist, went to work for the World Bank, and the family settled in Chevy Chase, Maryland. Furchtgott-Roth attended the exclusive Sidwell Friends School in Washington, graduating in 1975. She went on to Swarthmore College, earning a B.A. in economics in 1979. Furchtgott-Roth returned to England, and Oxford University's Brasenose College, where she earned an M.Phil in economics. Furchtgott-Roth became a U.S. citizen in 1988.
In 1986, Furchtgott-Roth was hired as a junior economist in Ronald Reagan's Council of Economic Advisers. She left the following year to work as an economist for the American Petroleum Institute, the lobbying arm of the oil and gas industry. Furchtgott-Roth returned to government in 1991 as deputy executive director of the Domestic Policy Council in the George H.W. Bush White House.
When the Republicans left office in 1993, Furchtgott-Roth landed at the right-wing American Enterprise Institute as a resident fellow and assistant to the president. She stayed there throughout the Clinton administration.
When George W. Bush took office, he brought in Furchtgott-Roth as chief of staff to the Council of Economic Advisers. In 2002, Furchtgott-Roth was nominated for a seat on the board of the Federal Housing Finance Agency, but she was not confirmed into the job. The following year, she moved to the Department of Labor as its chief economist.
Furchtgott-Roth left government in 2005 for another right-wing think tank, the Hudson Institute. She became a senior fellow at yet another conservative think tank, the Manhattan Institute, in 2011. There, she also served as director of the institute's Economics 21 group.
Furchtgott-Roth's economic theories are rooted in right-wing ideologies. She's anti-union, having proposed that the longshoremen's union be regulated under the Railway Labor Act, making it more difficult for them to strike. She is against any increase in the minimum wage, claiming it will hurt teen employment despite statistics showing that about half of all minimum wage workers are age 25 or older. She also criticized the Family and Medical Leave Act, claiming without evidence that it would be abused by workers illegitimately taking sick leave.
Furchtgott-Roth also criticized the Affordable Care Act (ACA), claiming, again without evidence, that it would increase bankruptcies caused by medical bills because of lower-quality healthcare. She was called out on this by Senator Al Franken (D-Minnesota) during Furchtgott-Roth's 2009 testimony about the ACA. After she made her claim, Franken pointed out that European nations with government-run healthcare have no such bankruptcies.
Furchtgott-Roth's support of free-market principles apparently doesn't extend to her local temples and synagogues. She wrote an article in The Forward in 2005 decrying the price of tickets for High Holy Days events at the houses of worship. The ticket sales fund many of the temples' activities for the year.
Furchtgott-Roth has written several books. Disinherited: How Washington Is Betraying America's Young, written with Jared Meyer, makes the argument that government programs hurt the young and only a free-market economy will save their future. The Feminist Dilemma: When Success Is Not Enough makes a similar argument about government programs meant to protect women. Another, Women's Figures: An Illustrated Guide to the Economics of Women in America, advances the notion that women have no glass ceilings or wage discrimination to overcome.
Furchtgott-Roth's husband, Harold Furchtgott-Roth, is an economist at the Hudson Institute. They have six children: Leon, Francesca, Jeremy, Godfrey, Theodore and Richard.
-Steve Straehley
To Learn More:
Manhattan Institute Commentaries
The Right Kind of Economist (by Christopher Maier, Swarthmore College Bulletin)
Franken Schools Right-Wing Analyst on Medical Bankruptcies in Countries With Universal Care: "It's Zero" (by Zaid Jilani, ThinkProgress)
High Holy Days Ticket Prices Are Costing Community (by Diana Furchtgott-Roth, The Forward)