Assistant Secretary for Fair Housing and Equal Opportunity: Who is Gustavo Velasquez?
Tuesday, February 07, 2017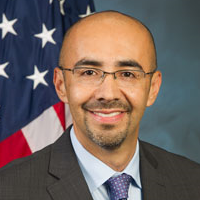 Gustavo Velasquez
Gustavo Velasquez Aguilar was confirmed by the U.S. Senate, by a straight party vote, on June 19, 2014, to become assistant secretary for the Office of Fair Housing and Equal Opportunity at the U.S. Department of Housing and Urban Development (HUD).
Velasquez was born December 1, 1972 in Oaxaca, Mexico. He graduated from the Universidad Iberoamericano in 1994 with a degree in political science and public administration. After his graduation, he worked as special assistant to the secretary of planning in the Mexican government's Department of Agriculture and Rural Development.
After moving to the United States, Velasquez earned a master's degree in public administration at the University of Pennsylvania in 1999.
Shortly after graduation, he was brought on board as division director of the Division of Families and Neighborhood Development at Congreso de Latinos Unidos, a Philadelphia-based provider of social services for Latinos. In 2001, he was made director of operations for the group. His responsibilities included assisting communities in need through management of programs on housing, finance and employment.
Between September 23, 2003, and December 31, 2006, Velasquez served as director of the Office of Latino Affairs for the District of Columbia. He then joined the D.C. Office of Human Rights, where he worked for nearly seven years, focusing primarily on enforcing the civil rights of residents, including non-discrimination practices through the D.C. Human Rights Act.
On November 4, 2013, Velasquez took over as executive director of the Latino Economic Development Center, a Washington, D.C. non-profit that assists Latinos and other immigrants with finding affordable housing and developing the skills to create and operate their own businesses.
Velasquez and his wife, Emily, have two sons, Sebastian and Javier. He speaks fluent Spanish.
-Danny Biederman
To Learn More:
Senate Confirms Gustavo Velasquez as HUD Assistant Secretary for Fair Housing and Equal Opportunity (The Arc)