Armenia's Ambassador to the United States: Who Is Tigran Sargsyan?
Monday, December 15, 2014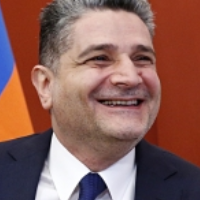 Tigran Sargsyan, a former prime minister of Armenia, was appointed his country's ambassador to the United States in July 2014.
Sargsyan was born January 29, 1960, in Kirovaken (now Vanadzor) in what was the Soviet Socialist Republic of Armenia. His father was a journalist. Sargsyan finished secondary school in 1977 and went to Armenia's Institute of National Economics in Yerevan, the nation's capital, and graduated in 1980. He went on to attend the Voznesensky Financial-Economic Institute in Leningrad, U.S.S.R. (now St. Petersburg, Russia), earning an M.S. in economics in 1987. His thesis was "Regional social-economic development planning on Armenia's example."
His first professional job was as a senior research worker in the international economic ties unit in the Institute of Economy and Planning. In 1990, he was named coordinator of standing seminars on economic reform for banking specialists and was elected a member of Armenia's parliament, where his banking background earned him the chairmanship of its commission on financial-crediting and fiscal affairs. He was also a member of the Presidium of the Supreme Council.
Sargsyan moved into academia in 1993 as an instructor in banking at Yerevan State University. Also that year, he helped introduce the Armenian Dram currency into circulation. In 1995, Sargsyan occupied the post of director of the Scientific and Research Institution of Public Reforms. Three years later, he was named chairman of Armenia's central bank, where he worked on integrating his country into the world economy. He held this position for ten years.
Sargsyan was selected as prime minister in April 2008 and was reappointed in 2012 and 2013. At first he was not a member of any political party, but he later joined the Republican Party of Armenia.
In 2010 he was hospitalized under suspicious circumstances, leading some to believe he was clearing a path for former President Robert Kocharyan to be made prime minister, but that never transpired. In 2011, Sargsyan survived a financial crisis in his country when the inflation rate hit 9.4%, sending thousands of Armenians into poverty. Sargsyan also survived a near-scandal in 2013 when he was named as a shareholder in an offshore company based in Cyprus. A suspect later confessed to putting Sargsyan's and another's name on the company in hopes of attracting financing.
Sargsyan was pushed out as prime minister in April 2014 when a pension reform plan he championed was found to be illegal under Armenian law.
Sargsyan and his wife, Gohar, have three children, Narine, Abgar and Markos, and two grandchildren. In 2010, he was named honorary chairman of the Volleyball Federation of Armenia. Sargsyan speaks English and Russian.
-Steve Straehley
To Learn More: