Armenia's Ambassador to the United States: Who Is Grigor Hovhannissian?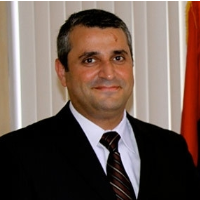 Grigor Hovhannisyan
Grigor Hovhannissian, who took an indirect route to his country's Foreign Service by beginning his career working for the United Nations, was named on Jan. 12, 2016, to be Armenia's ambassador to the United States. It's the second such post for Hovhannissian.
Hovhannissian was born Jan. 26, 1971, in Yerevan, Armenia's capital and largest city. He earned a degree in Arab and Oriental studies from Yerevan State University in 1992 and did graduate work in Middle East politics at Haigazyan University in Beirut. Later in his career, Hovhannissian took time to earn an M.A. in 2001 from Tufts University's Fletcher School of Law and Diplomacy in Massachusetts.
Hovhannissian started working for the UN in his native Yerevan in 1994 as a coordinator of the UN High Commissioner for Refugees' Shelter program. Two years later, he was sent to Africa's Great Lakes region as an assistant to the special coordinator for a UN mission there. In 1998, he was made part of the UN Secretariat's Office for Coordination of Humanitarian Affairs in Kinshasha, Democratic Republic of the Congo and Brazzaville, Republic of the Congo.
Hovhannissian began to put his Arab studies to use in 2001 as a team leader and emergency planner for the UN's Special Coordinator for the Middle East peace process. A year later he served as UN field coordinator in Palestinian territories, West Bank and the Gaza Strip. Beginning in 2004, he worked with the UN's assistance mission to Iraq.
In 2005, Hovhannissian returned to Armenia as a visiting lecturer in Middle East politics at his alma mater, Yerevan State University, remaining in that role until 2008. During the course of that work, in 2006, he served as a field coordinator for a UN emergency mission to Lebanon and also became executive director of the Shushi Revival Fund, a post he held until 2009. That organization attempted to direct funding to help rebuild the city of Shushi, which had been traditionally Armenian but now is part of Azerbaijan.
Hovhannissian joined Armenia's Foreign Service in 2009 as his country's Consul General in Los Angeles. There, he had to help clean up a mess made by one of his predecessors who was involved in an immigration documents sale scheme. In 2014, Hovhannissian was named Ambassador to Mexico, along with responsibilities for Panama, Cuba, Costa Rica and Guatemala.
Hovhannissian speaks English, French, Arabic, Russian and Spanish. He and his wife, Victoria, have twin daughters.
-Steve Straehley
To Learn More: