Antigua and Barbuda's Ambassador to the United States: Who Is Ronald Sanders?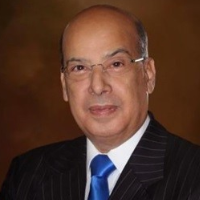 Ronald Sanders
Sir Ronald Sanders assumed his responsibilities as Antigua and Barbuda's Ambassador to the United States in August 2015. It's the first Washington posting for Sanders, who previously served twice as his country's High Commissioner to the United Kingdom.
Sanders was born in Guyana in 1948. He earned a masters in international relations from the University of Sussex in Britain and was a Visiting Fellow at Oxford University. He worked in broadcasting before becoming the public affairs adviser to Guyana's Prime Minister in the mid-1970s.
Sanders took up residence in Antigua and Barbuda and in 1984 was named that country's High Commissioner to the United Kingdom. He served there until 1987. In periods when Sanders was not working for his country's foreign ministry, he has worked as a journalist and writer covering issues of importance to the Caribbean and concerning "small states."
Between 1983 and 1985, Sanders served on the Board of the International Programme for the Development of Communication at UNESCO, and subsequently became an elected member of its Executive Board, a position he held until 1987.
Once again, from 1996 to 2004, Sanders held the position of High Commissioner to the UK. From 2003 to 2004 he served as the elected Chairman of the Caribbean Financial Action Task Force against drug trafficking and money laundering. In 2010 he was appointed as a member of an "Eminent Persons Group" to study reform options for the Commonwealth of Nations, the group of 53 countries with ties to the former British Empire.
In 2014 and 2015, Sanders was a candidate to be Secretary General of the Commonwealth of Nations. In an election held in November 2015, he lost the race to Dominican candidate Baroness Patricia Scotland, a former UK attorney general.
Prior to taking the Washington job, Sanders was a senior research fellow at the Institute of Commonwealth Studies at the University of London. He was also a senior fellow at Massey College, University of Toronto.
Sanders is married; his wife Susan is the daughter of a former Commonwealth Secretary General, Sir Shridath Ramphal.
-Steve Straehley
To Learn More: