Ambassador to the United States from Cabo Verde: Who Is José Luis Rocha?
Saturday, December 06, 2014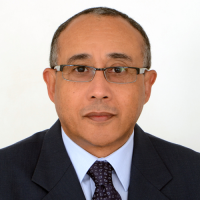 José Luis Fialho Rocha, a longtime member of his country's foreign ministry, took over as Cabo Verde's ambassador to the United States on May 12, 2014. Cabo Verde, also known as Cape Verde, is located off the coast of West Africa and has a population 0f about 512,000. More than 100,000 Americans are of Cape Verdean ancestry or were born in Cabo Verde.
Rocha was born August 6, 1956, on the island of San Vicente in Cabo Verde. He finished secondary school in 1974 and went to the Catholic University of Louvain in Belgium, earning a bachelor's degree in political science and international relations in 1981.
After college, Rocha went into government service, first as a staffer in the Ministry of Planning and Cooperation. In 1985, he was named head of the Division of Bilateral Cooperation. He took time out from that job to get some management training at the University of Pittsburgh in 1986, but otherwise stayed in the post until 1988. He was then named director of Services for Bilateral Cooperation in Cabo Verde's Center for Promotion of Exports and Investment. Rocha was moved up in 1991 to become director general of International Cooperation and deputy national authorizing officer of the European Development Fund.
Rocha's first ambassadorial post came in 1995, when he returned to Belgium as Cabo Verde's representative to that country and to Luxembourg. He was also the envoy to the European Union and to the African, Caribbean, and Pacific Group of States. In 1999, he was made ambassador to Organization Internationale de la Francophonie in Brussels.
He returned home in 2007 as director general of Foreign Policy for his government. In 2010, Rocha was made director of National Political Affairs and Cooperation in the Ministry of Foreign Affairs. He became Secretary of State, the number two job in the ministry, in 2011. While in that post, he negotiated deals with China for that country to build infrastructure projects in the islands.
As ambassador to the United States, one of Rocha's jobs is to look out for the interests of the Cabo Verdean diaspora in this country, many of whom live in the Boston area.
Rocha and his wife, Yamile, an anesthesiologist, have two sons and a daughter. He speaks Cabo Verdean, Portuguese, French, English and Spanish.
-Steve Straehley
To Learn More: