Ambassador to Peru: Who is Rose Likins?
Saturday, November 27, 2010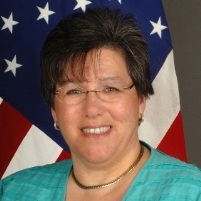 The daughter of Eugene and Merlyn McCartney, she was born in 1959. Likins earned a Bachelor of Arts degree in Spanish and international affairs from Mary Washington College in Virginia.
After leaving El Salvador, Likins served as principal deputy assistant secretary for political-military affairs in Washington, DC (2003-2006). In February 2005, she led a delegation to Nicaragua to deal with the continued presence of SA-7 shoulder-fired missiles in the country after an air-conditioning repairman was arrested trying to sell one.
Likins worked at the Foreign Service Institute in Washington, DC, first as dean of the Foreign Service Institute's School of Professional and Area Studies from June 2006 until July 2007, and then as its deputy director.
Likins speaks Spanish and Bulgarian. She and her husband, John, have two sons, James and Kevin.
-Noel Brinkerhoff