Ambassador to Norway: Who is Barry White?
Monday, November 30, 2009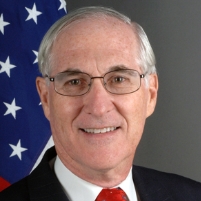 Barry B. White, sworn in as U.S. ambassador to Norway on October 21, 2009, is another of President Barack Obama's top fundraisers to receive a diplomatic post. A longtime attorney and business fixture in Boston, White has been involved in Massachusetts and national campaigns for Democratic presidential candidates, including those for Paul Tsongas and Bill Clinton.
Still there forty years later, White had become a senior partner at the firm. Before his appointment as ambassador to Norway, he spent the last 13 years serving as chairman and managing partner (in effect the CEO) of Foley, Hoag. His legal work has focused on technology business ventures, with extensive experience advising middle market corporations on merger and acquisition transactions and on issuing, refinancing and restructuring private and publicly held corporate debt.
White has been involved in Democratic politics in Massachusetts for many years. In 1992, he was chairman of the Paul Tsongas for President campaign, and later the New England Lawyers' Committee for Clinton/Gore. The following year he was co-chair of the Massachusetts Democratic Platform Committee, and in 1996, he co-chaired the New England Lawyers' Committee for Clinton/Gore. In addition, he has served on the finance committees of many Democratic senators and congressmen.
White and his wife have three sons.
-Noel Brinkerhoff