Ambassador to El Salvador: Who Is Jean E. Manes?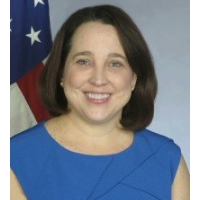 Jean Manes
Jean Manes, a career member of the Foreign Service, was confirmed by the Senate on December 9, 2015 as Ambassador to El Salvador. It is her first such posting.
Manes is from Pompano Beach, Florida, the daughter of Betty Jean and Roger Manes. She attended Highland Christian Academy from kindergarten through 12th grade, playing volleyball for the school and graduating in 1988. She went on to attend the conservative evangelical Liberty University in Lynchburg, Virginia, and graduated from there in 1992 with a B.S. in foreign affairs. In 1996, she earned a Master's in international administration from American University in Washington.
Manes joined the State Department after graduating from Liberty. Her first assignment was in Washington, in the Office of Policy Guidance, then moved to the Office of Grants and Contracts, approving grants for exchange and education programs. Her first overseas assignment was to Damascus, Syria.
She returned to Washington to work for three years in the White House to support trips by the President and White House press corps. Manes' next assignment was as management officer in the embassy in Buenos Aires, Argentina.
Beginning in 2003, Manes was regional program officer from the Western Hemisphere, where she created the Department of State Youth Book Program and managed the speaker program. She subsequently was public affairs officer in the embassy in Montevideo, Uruguay.
Manes' next assignment was as principal officer in the consulate in Ponta Delgada, Azores, where she helped negotiate the U.S. military presence in those Portuguese islands. She then was named cultural affairs officer in the embassy in Brazilia, Brazil, where she helped develop a six-year English teaching strategy in the run-up to the World Cup and Olympic Games.
She returned to Washington in 2010 as staff director for resources in the Office of Policy, Planning and Resources for Public Diplomacy and Public Affairs. Beginning in 2012, she served a tour as counselor for public affairs in Kabul, Afghanistan.
Manes got to return to Florida the following year as deputy director of the State Department's Florida Regional Center, which is one of the sites from which RSPO Florida operates. RSPO acquires supplies and services for U.S. diplomatic and service posts throughout Latin America, the Caribbean, and Canada.
In 2014, Manes was named principal deputy coordinator in the Bureau of International Information Programs, a post she held until her appointment to the El Salvador ambassadorship.
Manes is married to Hector Cerpa, a Uruguayan who was trained as a veterinarian but more recently has worked as a journalist, including for Voice of America and the U.S. Information Agency. They have two daughters.
Manes speaks Spanish and Portuguese.
-Steve Straehley
To Learn More: