Algeria's Ambassador to the United States: Who Is Madjid Bouguerra?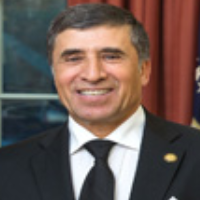 Madjid Bouguerra presented his credentials as Algeria's ambassador to the United States to President Barack Obama on February 13, 2015. It's the fifth ambassadorial posting for Bouguerra, a long-time member of his country's foreign service.
Bouguerra was born January 8, 1949, in Oum El-Bouaghi, Algeria, not far from that country's border with Tunisia. He attended the National School of Administration, graduating in 1973, and went on to study economics at the University of Algiers, graduating from there in 1974.
He went into the Ministry of Foreign Affairs even before finishing college, taking a spot as third secretary at the desk for socialist countries in the Division of Cultural, Scientific and Technical Affairs of the Ministry of Foreign Affairs. By 1976 he was in charge of the desk.
Bouguerra's first overseas assignment came in 1978 when he was named first secretary of his country's embassy in Tanzania. He remained in that post until 1981, when he got his first assignment in the United States as a counselor to Algeria's mission to the United Nations in New York. He came home in 1985 as the ministry's deputy director for central, southern and east Africa and the following year was moved to a similar post for West Africa.
His first posting as an ambassador came in 1987 when he was named to lead his country's mission in Zambia. After three years, he returned to Algeria as director of multilateral relations at the directorate general of Africa, during which he helped mediate a conflict in Mali. In 1992, Bouguerra began a five-year tour as Algeria's ambassador to Niger and during that time worked to bring together the parties involved in the Tuareg rebellion in Niger's northern region. He returned to the Ministry of Foreign Affairs in 1997 as director general for Africa.
Starting in 2001, Bouguerra was ambassador to China. While in that post, he helped negotiate Chinese participation in infrastructure projects in Algeria. He returned home in 2005 as director general for multilateral affairs and two years later was named secretary general of the Ministry of Foreign Affairs.
Bouguerra went to Berlin as Algeria's ambassador to Germany in 2010. He came home in 2013 to serve as minister delegate for Maghreb and African Affairs, his last post before assuming his post in Washington.
Bouguerra is married and has two children.
-Steve Straehley
To Learn More: