Administrator of the Grain Inspection, Packers and Stockyard Administration: Who Is Larry Mitchell?
Sunday, November 09, 2014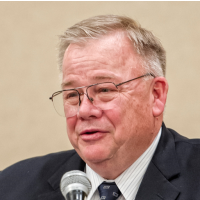 Agriculture Secretary Tom Vilsack appointed Lawrence "Larry" Mitchell to be administrator of the Grain Inspection, Packers and Stockyard Administration (GIPSA) on June 3, 2012. Created in 1994, GIPSA is supposed to regulate the grain and livestock industries—not an easy task, considering the financial power of the largest agribusiness companies.
Mitchell is a fifth-generation Texas farmer. He graduated from Arlington High School in 1974 and went first to Weatherford College, then to Tarleton State University in Stephenville, Texas, earning a B.S. in Plant and Soil Science in 1978.
He'd begun working on his family's farm in earnest in 1971 and continued doing so after college, eventually splitting off with his own operation. He farmed grains, cotton and hay and raised horses and cattle until joining the American Agricultural Movement in 1989. He served the organization of mostly small farmers as director of federal and state relations and editor from Washington. In 1994, Mitchell was named vice president of government relations for the National Farmers Union, an organization that represents family farmers and has fought for standards for organic foods, country-of-origin labeling and other issues.
Mitchell joined President Bill Clinton's administration in 1997 to serve as deputy administrator of farm programs in the U.S. Department of Agriculture's (USDA) Farm Service Agency. He also served for a time as a legislative liaison in the Office of Public Affairs. Mitchell left federal service in 2001 to become chief executive officer of the American Corn Growers Association, which represents primarily smaller farms. In 2007, he co-founded KSC&W, a lobbying firm and in 2009 he deregistered as a lobbyist and became president of K Street Research, an organization that does research for companies interested in government work but avoids some restrictions placed on lobbyists.
In 2011, Mitchell returned to government as associate director of the USDA's Office of Advocacy and Outreach, a job he held until taking over his current post.
Mitchell has criticized agriculture policymakers for promoting foreign trade as a solution to rural economies. In her book Foodopoly: The Battle Over the Future of Food and Farming in America, Wenonah Hauter quotes Mitchell as saying, "Trade has only been an engine for agriculture three times—during World Wars I and II and the Soviet grain deals in the 1970s. But we've bet our entire farm policies on something that only worked three times in a century."
-Steve Straehley
To Learn More: