Administrator of the General Services Administration: Who Is Denise Turner Roth?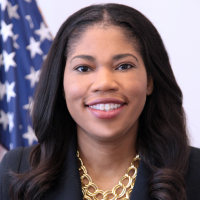 Denise Turner Roth, who has been serving as acting administrator of the General Services Administration (GSA) since March 2015, was nominated by President Barack Obama on May 21 to be administrator of the agency that serves as the government's supplier of goods, services and property to all federal agencies. She was confirmed by a voice vote in the Senate on August 5 and sworn in two days later.
Raised by her mother, who cleaned houses for a living, Roth grew up in the Anacostia neighborhood of southeast Washington D.C. "There were times," she has said, "when it was five of us in a two-bedroom apartment and there were times when there were just two of us. There were times when the lights were on and times when they weren't. I know what it means to have the food truck come and get cheese and bread."
Roth was chosen to attend Bishop Denis J. O'Connell High School in Arlington, Virginia and was on the dance team there. She graduated in 1992 and went on to George Mason University, earning a bachelor's degree in political science and government in 1996.
Roth started her career by working in the office of Rep. Jim Moran (D-Virginia) and then as a special assistant in the office of Washington Mayor Anthony Williams. She continued working for the District as public space manager for its Department of Transportation.
Beginning in 2003, Roth was a district liaison in the office of Rep. Brad Miller (D-North Carolina), and ran his successful re-election campaign in 2006. Roth moved to the private sector for a short time beginning in 2007 as vice president for governmental affairs for Greensboro Partnership, a lobbying firm. In 2008, she went to work for the city of Greensboro, North Carolina, as assistant city manager and was made city manager in 2011.
In 2014, Roth accepted the position as deputy administrator of the GSA. There she helped consolidate the administration's IT, human resources, administration and financial functions, saving up to $200 million over eight years. Working with IT projects came naturally to Roth; she got interested in computers as a child in the mid-80s. She was named acting GSA administrator in February 2015 upon the departure of Dan Tangherlini.
Roth is married to Chip Roth, a former Teamsters union official in North Carolina who worked with the local that represented Raleigh police. Since coming to Washington, he has started a lobbying firm, Chip Roth and Associates, whose major client is apparel maker VF Corporation. They have one son, C.J..
-Steve Straehley
To Learn More:
Confirmation Hearing Statement
Turner Roth Carves Fast Track to Federal Post (by Eric Ginsburg, Yes! Weekly)
Achieving Success (speech by Denise Turner Roth, You Tube)