Administrator of the Foreign Agricultural Service: Who Is Phil Karsting?
Saturday, November 08, 2014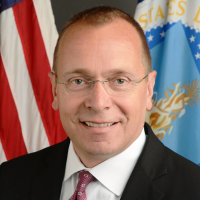 In May 2013, Phil Karsting took over as administrator of the Foreign Agricultural Service (FAS) in the U.S. Department of Agriculture. The FAs is in charge of developing foreign markets for U.S. agricultural products and overseeing food aid programs. It's the first executive branch job for Karsting, who worked as a Senate staffer for much of his career.
Karsting is from rural Blue Hill, Nebraska, where his family ran a farm supply business. He graduated from Blue Hill High School and went on to attend the University of Nebraska. In 1984, Karsting got his first taste of politics when he served as a page in the Nebraska legislature. He graduated from Nebraska in 1985 with a degree in agricultural economics.
He then went to Washington to work on the staff of Senator James Exon (D-Nebraska) and served as a senior analyst on the Democratic staff of the Senate Budget Committee. In 1998, Karsting went into the private sector as a consultant. He was a lobbyist for The Potomac Group and for the National Cooperative Business Association.
Karsting took time away from politics in 2003 to attend the French Culinary Institute in New York, followed by a one-week internship under chef Alice Waters at Chez Panisse in Berkeley, California.
He considered a new career in the restaurant business, but returned to Capitol Hill in 2004 to work in the office of Wisconsin Senator Herb Kohl (D). He began as a legislative assistant, moved up to appropriations coordinator in 2005 and in 2006 was made Kohl's deputy chief of staff. In 2009, Karsting was made chief of staff for the senator, a job he held until Kohl retired in 2013.
-Steve Straehley
To Learn More:
Herb Kohl's Epicurean Aide (by Marian Burros, Politico)