Administrator of the Federal Motor Carrier Safety Administration: Who Is T.F. Scott Darling III?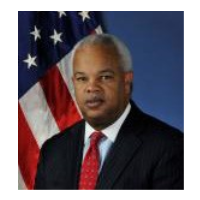 T.F. Scott Darling III
T.F. Scott Darling III, who has been running the Federal Motor Carrier Safety Administration (FMCSA) since 2014, was nominated on Aug. 5, 2015, by President Barack Obama to be the agency's permanent administrator.
Darling is from the Boston area and sought to be an urban planner. He attended Clark University, earning a bachelor's degree in urban government with a minor in geography in 1984. He subsequently earned a master's in public policy from Tufts and a law degree from Suffolk University.
Between 2001 and 2003, Darling served as the part-time executive director for Freedom House in Dorchester, Massachusetts. In Darling's work as an attorney, he dealt mainly with transportation, land-use, housing and environmental issues. From 2003 to 2005 he was a staff attorney at Fort Point Associates in Boston, which is an urban planning and environmental consulting firm. He was also the director and staff attorney for the Greater Boston Institute in the Conservation Law Foundation. There he helped organize the Riders Oversight Commission, which gave Boston-area public transit users a voice in how the system is run.
In 2005, Darling went to work for the Massachusetts Bay Transit Authority, initially as an environmental and land-use counsel, as well as its privacy administrator. He was promoted in 2009 to be deputy chief of staff and assistant general counsel for the authority.
Darling went to Washington in 2012 as chief counsel for the FMCSA. He was made acting administrator two years later upon the departure of Administrator Anne Farro. His term as acting administrator ended in March 2015, but Darling continued to run FMCSA as its general counsel.
Darling is married to Alyson Cooke, a counsel to the Senate Environment and Public Works Committee. She formerly worked for then-Senator Joe Biden.
-Steve Straehley
To Learn More:
Scott Darling, FMCSA's Top Lawyer, to Serve as Interim Administrator (by Kevin Jones, Commercial Carrier Journal)