Administrator of the Farm Service Agency: Who Is Val Dolcini?
Saturday, November 01, 2014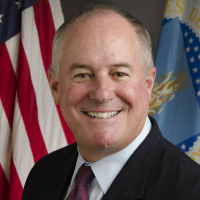 Agriculture Secretary Tom Vilsack appointed Val Dolcini to be Farm Service Agency (FSA) administrator in September 2014. Dolcini has experience in the post, having served as acting administrator in 2011.
Dolcini was born in Davis, California. He attended Davis High School, singing in Madrigals and went on to San Francisco State University. While there, he studied for a time at the University of Uppsala in Sweden. He earned a B.S. in history from San Francisco State University in 1985.
He worked as a paralegal for a few years before starting law school, and then earned a J.D. from Golden Gate University in 1993.
Dolcini went into public service after law school, serving as a legislative assistant to Rep. Nancy Pelosi (D-California) and starting in 1995 as district director for Rep. Vic Fazio (D-California).
In 1999, President Bill Clinton appointed Dolcini to be the state executive director of the California Farm Service Agency (CFSA). Farm Service Agencies support farmers by offering loans, payments, and disaster relief programs in times of need.
Dolcini went to work for then-California Gov. Gray Davis (D) in 2001, serving as his deputy legislative secretary through 2002. He then served for a time as chief of staff to California Assemblywoman Jenny Oropeza. In 2003, Dolcini was named vice president for California constituent relations for ACS State and Local Solutions, a company that handled IT services for governments. He returned to state government in 2004 as policy director for California Lt. Gov. Cruz Bustamonte (D) and then went back to the private sector in 2005 as a senior manager for state and local government relations for the consulting firm Accenture.
Dolcini returned to his old job as state executive director of CFSA in 2009, when he was appointed by President Barack Obama. He remained there until 2014, taking time in 2011 to serve as acting administrator of the national FSA.
When Dolcini was appointed to the FSA post in 2014, he drove to Washington from California, stopping at state FSA offices along the way and chronicling the trip on his Facebook page.
Dolcini's wife, Solveig Monson, is a consultant on public school central office issues. They have one son in college.
-Steve Straehley
To Learn More: