Acting Director of the Defense Advanced Research Projects Agency (DARPA): Who Is Kaigham Gabriel?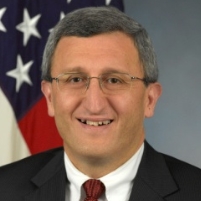 Born circa 1955, Gabriel earned an S.M. and a Ph.D. in Electrical Engineering and Computer Science from the Massachusetts Institute of Technology in 1979 and 1983, respectively. In 1985 he joined AT&T Bell Labs in the Robotic Systems Research Department, where he pioneered the field of MEMS. During a sabbatical year from Bell Labs, Gabriel was a visiting associate professor at the Institute of Industrial Science at the University of Tokyo in Japan.
In 1997, Gabriel was jointly appointed professor of Electrical & Computer Engineering and Robotics at Carnegie Mellon University, where he continued his work on MEMS. After the terrorist attacks of September 11, 2001, Gabriel and his wife, Christina, organized an Office for Security Technologies, the purpose of which was to match Carnegie Mellon experts with government agencies that might need them.
-Matt Bewig