Acting Administrator of the Food Safety and Inspection Service: Who Is Alfred Almanza?
Thursday, January 05, 2017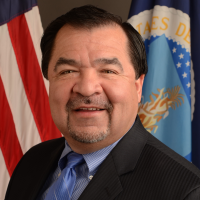 Al Almanza
Alfred Almanza, a career employee of the Food Safety and Inspection Service (FSIS), was appointed Deputy Under Secretary for Food Safety and acting administrator of FSIS in September, 2014.
Almanza started with FSIS in 1978 as a food inspector in a slaughterhouse in Dalhart, Texas. From that entry-level position, Almanza worked his way up to labor management specialist, deputy district manager and in 2004 as district manager in the FSIS office in Dallas.
Almanza's work in Dallas impressed then-Under Secretary for Food Safety Richard Raymond and in 2007 he asked Almanza to come work for him in Washington as FSIS administrator. When Almanza was named deputy under secretary, he kept his responsibilities as FSIS administrator despite no longer having the official position.
In 2015, Almanza instituted a new poultry inspection system that puts much of the responsibility for ensuring food safety in the hands of the processors, rather than the U.S. Department of Agriculture. He also consolidated food safety offices during his tenure, cutting the number from 15 to 10.
Almanza and his wife Wendy have a daughter. He enjoys deer hunting.
-Steve Straehley
To Learn More: