Overview
Nine atolls. Ten square miles of usually dry land. Twelve thousand people. That's about all there is to Tuvalu. One of the smallest independent countries in the world in both land area and population, it's hard to understand why or how such a place could become independent. There is hardly any development...which is not necessarily bad, as much of its population lives a traditional, subsistence lifestyle. Surviving from stamp sales, remittances from Tuvaluans working as merchant sailors, fishing license deals, and proceeds from a trust fund, Tuvalu clings to its independence. Its current biggest fear? Losing land area to rising sea levels due to global warming. There is just nowhere for them to go.
more
less
Basic Information
Location: Tuvalu is located in the central Pacific, south of the Gilbert Islands, east of the Solomon Islands, and north of Fiji. The group consists of nine flat atolls comprising a total of 26 square kilometers of dry land. The name Tuvalu means "eight standing together," so named because of the eight traditionally inhabited atolls.
Population: 12,177 (2008 est)
Religions: Protestant: 97%; Seventh Day Adventist: 1.4%; Baha'i: 1%; other: 0.6%
Ethnic Groups: Polynesian 96%; Micronesian 4% (the island of Nui is populated by ethnic I-Kiribati)
Languages: Tuvaluan, English, Samoan, I-Kiribati (on the island of Nui)
more
less
History
The islands were settled as long as 2,000 years ago by Polynesians who probably arrived from Samoa. The Tuvaluan language is close to Samoan. Subsequent migrations or raids from Tonga and Kiribati added to the population mix, although it remained predominantly Polynesian. In the 1800s the group was given the name "Ellice" islands by a ship captain honoring a financial benefactor of the voyage. Eventually many European and American beachcombers, often deserters from whalers, settled in, marrying local women and adding new genes to the pool. Many became traders. In the 1860s Peruvian blackbirders carried off 400 Tuvaluans to work digging guano on Peruvian coastal islands. None ever returned. Also in the 1860s, missionaries arrived and the islanders began to convert to Christianity. In the 1890s the British made a protectorate of Tuvalu, joining it with the Gilbert Islands to the north. In 1916 it became the Gilbert and Ellice Islands Colony.
During the colonial period, many Tuvaluans moved to Tarawa in the Gilberts to get jobs. Others went to Nauru to work in the phosphate industry. After World War II, the Gilbertese in Tarawa began to get jealous of the Tuvaluans' success in securing government jobs, and Tuvaluans began to feel discriminated against. In 1975 the Tuvaluans formally expressed their desire to separate from the Gilberts, and Tuvalu became independent in 1978. Since then it has survived from subsistence agriculture and fishing on most of the islands. The economy is built on remittances from sailors working on ships around the world, a wisely managed trust fund, money from the United States for fishing rights in Tuvaluan waters, royalties from the ".tv" Internet domain name, and sales of stamps and coins. The Tuvaluans' main concern is that rising seas caused by global warming will eventually completely swamp the low coral islands and drive off the population. In 2000 the Tuvalu government requested that either Australia or New Zealand take them if that happens.
Number of Tuvaluan-Americans and other nationals of the nation living in the U.S.: There is no data on this. Most Tuvaluans migrate to New Zealand or Australia, few go to the United States.
more
less
History of U.S. Relations with Tuvalu
During World War II there were no battles in Tuvalu, but Americans built bases on three of the atolls. In 1979 the United States and Tuvalu signed a treaty of friendship, in which the United States dropped its claims to four of the group's islands.
more
less
Current U.S. Relations with Tuvalu
There is no U.S. embassy or consulate in Tuvalu, and the U.S. Ambassador to Fiji serves as the U.S. Ambassador to Tuvalu. He visits Tuvalu occasionally.
Tuvalu's relations with the United States are generally good, but the country is frustrated because the United States has refused to sign the Kyoto Protocol on global warming. This is a serious issue for the Tuvaluans, who see their islands as literally washing away in the not too distant future.
more
less
Where Does the Money Flow
In 2008 the United States imported a total of $88,000 worth of goods from Tuvalu. Also in 2008, the United States exported a total of $130,000 worth of goods to Tuvalu, most of that in generators and accessories, electric apparatus, and apparel and other textile goods. There are no U.S. aid programs currently in Tuvalu.
more
less
Past Ambassadors
U.S. ambassadors to Fiji have been accredited to Tuvalu since 1997.
David L. Lyon 1/9/03-7/23/05
Ronald McMullen, Charge d'Affairs, 6/01-6/02
Hugh Neighbor, Charge d'Affairs 6/02-1/03
M. Osman Siddique 9/13/99-6/30/01
Don L. Gevirtz 2/2/96-9/28/97
more
less
Tuvalu's Ambassador to the U.S.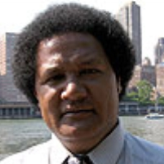 Pita, Afelle
Tuvalu has no ambassador to the United States and has no embassy in the United States. It does have a permanent mission to the United Nations. The current representative is Afelee F. Pita, who was appointed in December 2006. Born in 1958, Pita received a Bachelor of Arts in administration and accounting from the University of the South Pacific in Suva, Fiji, and a Master of Arts in public administration from the University of Canberra in Australia. From 1987 to 1988 he was Assistant Secretary, then Secretary, for the Ministry of Commerce and Natural Resources. From 1989 to 1992 he was Assistant Secretary for Commerce. In 1993 Pita served as Acting Secretary for the Ministry of Trade, Commerce, and Public Corporations. In 1994 he was appointed Permanent Secretary for the Ministry of Health, Sports, and Human Resources and from 1994 to 1996 he was Permanent Secretary for the Ministry of Labour and World Communications. From 1996 to 1997 Pita went on leave to study, then from 1997 to 1999 he was Permanent Secretary for the Ministry of Natural Resources and Environment. He moved on to serve as Permanent Secretary at the Ministry of Finance and Economic Planning from 1999 to 2001. From 2001 to 2004 Pita worked for the Asian Development Bank in Manila, Philippines. In 2004 he was appointed Permanent Secretary to the Ministry of Natural Resouces and Lands.
more
less