Overview
<div>The Central African Republic is located at the geographic center of the African continent and has long been colonized or economically dominated by France. Unrest and violence have characterized the country&rsquo;s government for the past several decades, but the country has been slowly moving towards democracy.&nbsp;The country&rsquo;s human rights record continues to be poor, with reports of torture, beating and rape from suspects and prisoners. Prison conditions remained poor, and judicial corruption continued to be problematic. The country became embroiled in controversy when exiled Haitian leader Jean-Bertrand Aristide arrived in the Central African Republic and accused the US of forcing him out of Haiti, which the US government denied.</div> <div>&nbsp;</div>
more
less
Basic Information
<div><b>Lay of the Land</b>: In the geographic center of Africa, the Central African Republic is situated on a plateau, 2,000 feet in elevation.&nbsp;The plateau drains north into the Shari Basin and Lake Chad, and drains south into the Ubangi River, a tributary of the Congo.&nbsp;There is a large rainforest in the southwest of the country and a semidesert in the northeast, but most of the country is savanna.&nbsp;The climate is damp but pleasant.</div> <div>&nbsp;</div> <div><b>Population</b>: 4.4 million</div> <div>&nbsp;</div> <div><b>Religions</b>: Protestant 51%, Catholic 29%, Muslim 10%, Ethnoreligious 10%.&nbsp;Old animistic beliefs still influence Christian practices.</div> <div>&nbsp;</div> <div><b>Ethnic Groups</b>: Baya 33%, Banda 27%, Mandjia 13%, Sara 10%, Mboum 7%, M'Baka 4%, Yakoma 4%, other 2%.</div> <div>&nbsp;</div> <div><b>Languages</b>: Banda Language Cluster (e.g. Mid-Southern, South Central, Togbo-Vara, Bambari, Mbr&egrave;s, Yangere) 17.7%, Gbaya Language Cluster (Northwest, Southwest, Bossangoa, Bozoum) 15.5%, Sango (a French/African Creole, also an official language) 10.4%, Manza 6.0%, Bagirmi Fulfulde 4.2%, Bokoto 3.5%, Ngbaka (Ma'bo, Manza) 3.2%, Yakoma 2.7%, Kare 2.5%, French 0.2% (official).&nbsp;There are 69 living languages in the Central African Republic.</div> <p>&nbsp;</p>
more
less
History
<div>The Central African Republic (CAR) was originally settled in the 7th Century as a result of several overlapping empires. These included the Kanem-Bornou, Ouaddai, Baguirmi, and Dafour groups based in Lake Chad and the Upper Nile. However, conflicts among various sultanates turned the entire region of present day CAR, especially the Oubangui region, into an area for holding slaves. Slaves were traded north across the Sahara and to West Africa for European traders. As the population moved and shifted according to the dictates of the slave trade, new groups, such as the Zande, Banda and Baya-Mandjia, came to the area in the 18th and 19th centuries.</div> <div>&nbsp;</div> <div>In 1875, Upper-Oubangui (part of present-day CAR) was governed by the Sudanese sultan Rabih az-Zubayr. French, German and Belgian explorers began arriving in 1885. The French staked a claim to the right bank of the Oubangui River, through an 1887 convention with the Congo Free State. In 1889, the French established an outpost in this locale.&nbsp;</div> <div>&nbsp;</div> <div>In 1894, Oubangui became a French territory, but the French government did not really consolidate its control until 1903, after defeating Rabih&rsquo;s forces. Three years later Oubangui-Chari united with the Chad colony, and in 1910, it became part of the Federation of French Equatorial Africa (AEF). The other nations in this federation were Chad, Congo (known as Brazzaville) and Gabon. Over the next 30 years, several small-scale revolts were mounted against the French rule, which sought to establish a plantation-style economy.&nbsp;</div> <div>&nbsp;</div> <div>When the French needed soldiers to fight in World War II, General Charles de Gaulle called upon the citizens of the Central African Republic in 1940. During the war, exports of cotton and diamonds, as well as big-game hunting, drew many visitors to the area.</div> <div>&nbsp;</div> <div>After the war, the French began to take steps that eventually granted independence for all French territories in western and equatorial Africa. In 1946, all AEF inhabitants were granted French citizenship and gained the right to have local assemblies. Barth&eacute;lemy Boganda, a Catholic priest who also was known for his forthright statements in the French Assembly on the need for African emancipation, led the assembly in the CAR.</div> <div>&nbsp;</div> <div>French legislation of 1956 eliminated certain voting inequalities and provided for the creation of self-government for the CAR, and in 1958, a French constitutional referendum dissolved the AEF. The Central African Republic was formed on December 1, 1958, and made Barth&eacute;lemy Boganda the head of the country&rsquo;s government. He ruled until his death in a plane crash on March 29, 1959, and his cousin, David Dacko, replaced him. Dacko governed the CAR until 1965 and oversaw the country&rsquo;s declaration of independence on August 13, 1960.</div> <div>&nbsp;</div> <div>A bloodless coup on January 1, 1966 established Col. Jean-B&eacute;del Bokassa as the president of the republic. Bokassa abolished the 1959 constitution, as well as the National Assembly, and issued a decree that placed all executive and legislative powers in his hands. On December 4, 1976, the CAR became a monarchy, with a new imperial constitution and a proclamation of the president as Emperor Bokassa I. Over the next few years, human rights abuses of all kinds abounded, drawing comparisons between Bokassa and Uganda&rsquo;s Idi Amin.</div> <div>&nbsp;</div> <div>As the result of riots in Bangui and the murder of 50-200 schoolchildren, former President Dacko led a French-backed coup against Bokassa on September 20, 1979. The French coveted the uranium deposits at Bakouma and the big game hunting grounds patronized by former French president Val&eacute;ry Giscard d'Estaing. Bokassa was eventually convicted of treason, murder and cannibalism and sentenced to death (Later, his sentence was commuted to life in prison). Bokassa died in Bangui in November 1996.</div> <div>&nbsp;</div> <div>Dacko tried to implement reforms, but on September 1, 1981, he was overthrown by Gen. Andr&eacute; Kolingba, who ruled the country for four years as head of the Military Committee for National Recovery (CRMN). In 1985, the CRMN was dissolved, and Kolingba formed a new cabinet that allowed greater civilian involvement. This began the process of democratization, which gained in momentum in 1986 with the creation of a new political party, the Rassemblement D&eacute;mocratique Centrafricain (RDC), and the drafting of a new constitution. Kolingba was sworn in as constitutional president on November 29, 1986.&nbsp;</div> <div>&nbsp;</div> <div>The country&rsquo;s new National Assembly was made up of 52 elected deputies elected in July 1987. President Kolinga bowed to outside pressure to create a multi-party system, and the first multi-party elections were held in 1992 (they were later cancelled due to serious logistical problems). Ange-F&eacute;lix Patass&eacute; won a second-round victory in rescheduled elections held in October 1993 and was re-elected for another six-year term in September 1999.</div> <div>&nbsp;</div> <div>Unpaid salaries, unrest about labor and unequal treatment of military officers led to three mutinies against the Patass&eacute; government in 1996 and 1997. The French quelled these uprisings, and an African peacekeeping force (MISAB) occupied Bangui until 1998, when they were relieved by a UN peacekeeping mission (MINURCA). However, the destruction caused during this time, along with an energy crisis and government mismanagement, continued to plague Patass&eacute;&rsquo;s government through 2000.</div> <div>&nbsp;</div> <div>In March 2000, MINURCA forces left Bangui, and in May 2001, rebel forces led by former President and Army General Andr&eacute; Kolingba attempted a military coup. Heavy fighting ensued for several days, but ultimately forces loyal to the existing government prevailed, thanks to the help of a small number of troops from Libya and the Congolese Movement for the Liberation of the Congo (MLC).</div> <div>&nbsp;</div> <div>In November 2001, the sacked chief of staff of the armed forces, Fran&ccedil;ois Boziz&eacute;, fled to Chad. Periodic skirmishes along the border with Chad continued through mid-2002. During this time, UN Secretary-General Kofi Annan criticized the CAR&rsquo;s human rights record, focusing on the behavior of the armed forces.</div> <div>&nbsp;</div> <div>In October 2002, Boziz&eacute; attempted to overthrow the Patass&eacute; government, and finally succeeded. On March 15, 2003. Boziz&eacute; took over the capital and declared himself president. Immediately, he suspended the constitution and dissolved the National Assembly.&nbsp;</div> <div>&nbsp;</div> <div>Although he has absolute power over the CAR, Boziz&eacute; has made progress in restoring order in Bangui. In 2004, a new constitution was passed, and in spring of 2005, the country held its first elections since the March 2003 coup. The first round of presidential and legislative elections were held in March 2005, and in May, Boziz&eacute; defeated former Prime Minister Martin Zigu&eacute;l&eacute; in a second-round runoff. On June 13, Boziz&eacute; named &Eacute;lie Dot&eacute;, an agricultural engineer who had worked at the African Development Bank, his new Prime Minister. Dot&eacute; was forced to resign on January 18, 2008, however, as a result of a nationwide strike.&nbsp;</div> <div>&nbsp;</div> <div>The northern region of the CAR has endured several humanitarian emergencies, as unrest and fighting between rebel groups has displaced nearly 300,000 people. The Darfur crisis in Sudan is also adding to the problem, with refugees spilling into the CAR.&nbsp;</div> <div>&nbsp;</div> <div><a href="http://en.wikipedia.org/wiki/History_of_the_Central_African_Republic">History of the Central African Republic</a> (Wikipedia)</div> <div><span style="font-size: small;">&nbsp;</span></div> <p>&nbsp;</p>
more
less
Central African Republic's Newspapers
<div><a href="http://allafrica.com/centralafricanrepublic/">Central African Reoublic News</a></div> <div><a href="http://www.centrafrique-presse.com/">Centrafrique-presse</a></div> <div>&nbsp;</div>
more
less
History of U.S. Relations with Central African Republic
<div>In 1996 and 1997, the US Embassy was briefly closed down due to fighting in the Central African Republic. The embassy reopened in 1998, with limited staff, but the US Agency for International Development (USAID) and Peace Corps missions previously operating in Bangui did not return.</div> <div>&nbsp;</div> <div>The embassy in Bangui was closed again, on November 2, 2002, due to security concerns at the time of Fran&ccedil;ois Boziz&eacute;&rsquo;s military coup, launched in October of that year. The embassy was reopened in January 2005, but with only limited diplomatic representation, including a Charg&eacute; d&rsquo;Affaires ad interim in charge of the American mission, not an ambassador. In July 2007, Frederick Cook arrived in Bangui to serve as the US ambassador in four and a half years.</div> <div>&nbsp;</div>
more
less
Current U.S. Relations with Central African Republic
<div>The State Department claims relations between the United States and the CAR are good.&nbsp;However, American officials have expressed concerns about the slow pace of democratic reforms, changes towards a free economy and better human rights. These concerns have affected the support and aid the US is willing to provide to the CAR.</div> <div>&nbsp;</div> <div>Because of the limited staff at the US Embassy, the United States can deliver only limited services to Americans living or working in the country. The State Department has issued a warning to all Americans traveling in the Central African Republic, and American citizens are advised to exercise caution and maintain security awareness at all times. After the coup of 2002-2003, US officials lifted the Section 508 aid restrictions and began sending assistance for strengthening democracy, the media and parliament.&nbsp;</div> <div><b>&nbsp;</b></div> <div>The US has supported the efforts of the UN Peace-building Office in the CAR (BONUCA), and of the Multinational Force of the Central African Monetary and Economic Community (also known as <a href="http://www.operationspaix.net/-FOMUC-">FOMUC</a>).</div> <div><b>&nbsp;</b></div> <div>In 2005, 377 Americans visited the Central African Republic, up from 264 in 2004. More tourists have gone to the CAR every year since 2002, when 117 visits were made. In 2006, 390 nationals of the Central African Republic visited the US, an increase of 14.4% from the 341 that visited in 2005. The number of tourists has fluctuated in recent years, with a low of 47 in 2003.</div> <div>&nbsp;</div> <div>U.S. Embassy in the Central African Republic</div> <div>Avenue David Dacko</div> <div>B.P. 924</div> <div>Bangui, Central African Republic</div> <div>Telephone: (236) 61-02-00; (236) 61-02-10; (236) 65-25-78</div> <div>Fax: (236) 61-44-94</div> <div>&nbsp;</div> <div>&nbsp;</div>
more
less
Where Does the Money Flow
<div>Imports from the Central African Republic to the US are few.&nbsp;However, several have grown significantly over the past few years (2006 to 2007), as the region has become more stabilized. <span>Feedstuff and food grains have grown from $0 to $85,000, tobacco, waxes and nonfood oils have grown from $241,000 to $395,000, &ldquo;measuring, testing and control instruments&rdquo; have increased from $0 to $38,000 and telecommunications equipment has grown from $0 to $59,000.&nbsp;</span></div> <div>&nbsp;</div> <div>On the decline are the following: &ldquo;Gem diamonds (uncut or unset)&rdquo; which had been at a high of $6.9 million in 2004, dropped to $1.5 million in 2007; lumber and wood (in the rough) dropped from $469,000 in 2006 to $349,000 in 2007; and &ldquo;other gem stones&rdquo; (precious, semiprecious, and imitation) dropped from $167,000 in 2006 to $0 in 2007.&nbsp;</div> <div>&nbsp;</div> <div>US exports to the Central African Republic grew more numerous from 2006 to 2007, with corn rising from $69,000 to $3.2 million, vegetables rising from $76,000 to $889,000, excavating machinery increasing from $149,000 to $1.2 million, and industrial machines (other) rising from $695,000 to $1.4 million.&nbsp;</div> <div>&nbsp;</div> <div>On the decline from 2006 to 2007 were rice ($797,000 to $0), petroleum products (other) ($2.9 million to $0), nonmetallic minerals ($1.5 million to $80,000), and shingles, molding and wallboard ($2.2 million to $0) and civilian aircraft ($6.4 million to $595,000).</div> <div>&nbsp;</div> <div>Of the $670,000 in US aid to the Central African Republic in 2006, $565,000 went to Crisis Assistance and Recovery, while the remaining $105,000 went to International Military Education and Training.</div> <div>&nbsp;</div> <div><a href="http://www.census.gov/foreign-trade/statistics/product/enduse/imports/c7540.html">Imports from the Central African Republic</a></div> <div><a href="http://www.census.gov/foreign-trade/statistics/product/enduse/exports/c7540.html">Exports to</a><a href="http://www.census.gov/foreign-trade/statistics/product/enduse/exports/c7540.html"> the Central African Republic</a></div> <div><a href="http://www.state.gov/t/pm/64634.htm">Central African Republic: Security Assistance</a></div> <div><a href="http://www.state.gov/documents/organization/101368.pdf">Congressional Budget for Foreign Operations (page 210-211)</a> (PDF)</div> <div>&nbsp;</div>
more
less
Controversies
<div><b>Aristide Visit Causes Controversy with U.S. Officials </b></div> <div>In March 2004 exiled Haitian leader Jean-Bertrand Aristide wound up in the Central African Republic after being forced out of his home country. On a flight arranged by the US government, Aristide said that American troops had forced him to leave Haiti. Secretary of State Colin Powell denied the claim, and CAR President Boziz&eacute; told Aristide to stop blaming the United States for ousting him from power and cancelled a meeting with Aristide. The US and other diplomatic sources looked for alternative countries where Aristide could reside to avoid creating trouble for the Central African Republic&rsquo;s relations with the US. &ldquo;I am happy he is gone,&rdquo; said Vice President Dick Cheney. &ldquo;I think the Haitian people are better off for it.&rdquo; Aristide eventually settled in South Africa.</div> <div><a href="http://www.foxnews.com/story/0,2933,113056,00.html">Aristide's Claims Cause Problems With African Host</a> (Associated Press)</div> <div>&nbsp;</div>
more
less
Human Rights
<div>Fighting between CAR rebels and government security forces in 2002-2003 contributed significantly to a generalized political and military crisis, which had a profound negative effect on governmental authority and human rights. Civilian authorities did not maintain effective control over the security forces.</div> <div>&nbsp;</div> <div>Since then, the government&rsquo;s human rights record has remained poor, according to the State Department and other human rights organizations. Reports of extrajudicial killings by the Central Office for the Repression of Banditry (OCRB) decreased, but reports of the military killing civilians increased sharply due to government counteroffensive operations against rebels in the north. Security forces continued to torture, beat, and rape suspects and prisoners. Despite some improvements, conditions in prisons and detention centers remained harsh.</div> <div>&nbsp;</div> <div>The government&rsquo;s increased use of arbitrary arrest and detention, particularly in connection with fighting against rebels in the north, contributed to an increase in the number of detainees. Prolonged pretrial detention, denial of a fair trial, and judicial corruption continued to be problematic. Freedom of movement deteriorated, because of actions by security forces, armed bandits, and rebels. Government corruption and lack of access to government-held information remained serious problems.</div> <div>&nbsp;</div> <div>Societal violence, including female genital mutilation (FGM), discrimination against women, and discrimination against indigenous people (Pygmies) also remained problems. Trafficking was a problem, as were forced labor and child labor, including forced labor by children. Workers&rsquo; rights remained restricted.</div> <div>&nbsp;</div> <div>There were no reports that the government or its agents killed members of opposing political groups, but soldiers, particularly the presidential security forces (commonly known as the presidential guard) killed numerous civilians they suspected of supporting armed rebel groups. Security forces continued to commit executions and other arbitrary killings of civilians with impunity throughout the year. Both government security forces and armed rebels killed civilians in the course of conflict in the north of the country.</div> <div>&nbsp;</div> <div>Although the law and the constitution prohibit torture and specify punishment for those found guilty of physical abuse, police, including the OCRB, continued to torture, beat, and otherwise abuse criminal suspects, detainees, and prisoners, according to local human rights groups such as the Association Against Torture (ACAT) and the Central African Human Rights League (LCDH). The government did not take effective action to punish police who tortured suspects.</div> <div>&nbsp;</div> <div>Prison cells were overcrowded, and basic necessities, including food, clothing, and medicine, were inadequate and often confiscated by prison officials. Prisoners depended on family members to supplement inadequate prison meals and were sometimes allowed to forage for food near the prison. Prisoners were frequently forced to perform uncompensated labor.</div> <div>&nbsp;</div> <div>Arbitrary arrest and detention remained a problem. Authorities arrested and convicted one journalist after he contested the composition of a government media regulatory body.</div> <div>&nbsp;</div> <div>There were several reports of political detainees and political prisoners during 2007. For example, <a href="http://www.rsf.org/article.php3?id_article=21372">Michel Alkhaly-Ngady</a>, the publisher of an independent newspaper, was sentenced to three months in prison during the year for &ldquo;resistance and disobedience to public authorities and contempt for the laws.&rdquo; Some observers believed that political considerations were responsible for the harshness of his sentence.</div> <div>&nbsp;</div> <div>The constitution provides for an independent judiciary in civil matters, and citizens had access to a court to bring lawsuits seeking damages for, or cessation of, a human rights violation; however, there was a widespread perception that judges were easily bribed and that litigants could not rely on courts to render impartial judgments.</div> <div>&nbsp;</div> <div>Government and opposition forces engaged in serious and numerous violations of human rights in the course of their struggle for control of the northern part of the country.</div> <div>&nbsp;</div> <div>The constitution provides for the right of assembly. However, the government restricted this right on a few occasions. Political meetings in schools or churches were prohibited. Any association intending to hold a meeting was required to obtain the Interior Ministry&rsquo;s approval. In some cases the ministry refused permission &ldquo;for security reasons.&rdquo;</div> <div>&nbsp;</div> <div>Security forces, customs officers, and other officials harassed travelers unwilling or unable to pay bribes or &ldquo;taxes&rdquo; at checkpoints along major intercity roads and at major intersections in Bangui.</div> <div>&nbsp;</div> <div>Misappropriation of public funds and corruption in the government remained widespread. The World Bank&rsquo;s <a href="http://info.worldbank.org/governance/wgi/sc_chart.asp">Worldwide Governance Indicators</a> for 2007 reflected that government corruption was a severe problem.</div> <div>&nbsp;</div> <div>Despite constitutional protections, there was societal discrimination against Pygmies (Ba'Aka) the earliest known inhabitants of the rain forest in the southern part of the country. Pygmies continued to have little say in decisions affecting their lands, culture, traditions, and the allocation of natural resources. Forest-dwelling Ba'Aka, in particular, were subject to social and economic discrimination and exploitation, which the government has done little to prevent. Despite repeated promises, the government took no steps to issue and deliver identity cards to Pygmies, according to many human rights groups, effectively denying them access to greater civil rights.</div> <div>&nbsp;</div> <div><a href="http://www.state.gov/g/drl/rls/hrrpt/2007/100472.htm">U.S. State Department</a></div> <div><a href="http://hrw.org/doc/?t=africa&amp;c=carepu">Human Rights Watch</a></div> <div><a href="http://www.amnesty.org/en/region/africa/central-africa/central-african-republic">Amnesty International</a></div> <div>&nbsp;</div>
more
less
Past Ambassadors
<div>Note: Alan W. Lukens (resident at Brazzaville) presented credentials as Charg&eacute; d'Affaires ad interim Aug 13, 1960. During Blancke's tenure as non-resident Ambassador to the Central African Republic, Embassy Bangui was established Feb 10, 1961, with Lukens as resident Charg&eacute; d'Affaires ad interim. Ambassador Cooke was commissioned to the Central African Empire.</div> <div>&nbsp;</div> <div>W. Wendell Blancke</div> <div>Appointment: Dec 12, 1960</div> <div>Presentation of Credentials: Jan 6, 1961</div> <div>Termination of Mission: Superseded, Nov 29, 1961</div> <div>Note: Commissioned during a recess of the Senate; recommissioned after confirmation on Feb 6, 1961. Also accredited to Chad, Congo, and Gabon; resident at Brazzaville.</div> <div>&nbsp;</div> <div>John H. Burns</div> <div>Appointment: Nov 10, 1961</div> <div>Presentation of Credentials: Nov 29, 1961</div> <div>Termination of Mission: Left post, May 6, 1963</div> <div>&nbsp;</div> <div>Claude G. Ross</div> <div>Appointment: Aug 1, 1963</div> <div>Presentation of Credentials: Sep 16, 1963</div> <div>Termination of Mission: Left post, Apr 22, 1967</div> <div>&nbsp;</div> <div>Geoffrey W. Lewis</div> <div>Appointment: Sep 13, 1967</div> <div>Presentation of Credentials: Oct 23, 1967</div> <div>Termination of Mission: Left post, Aug 2, 1970</div> <div>&nbsp;</div> <div>Melvin L. Manfull</div> <div>Appointment: Nov 23, 1970</div> <div>Presentation of Credentials: Feb 4, 1971</div> <div>Termination of Mission: Left post, Dec 13, 1972</div> <div>&nbsp;</div> <div>William N. Dale</div> <div>Appointment: Jul 24, 1973</div> <div>Presentation of Credentials: Sep 18, 1973</div> <div>Termination of Mission: Left post, Jul 17, 1975</div> <div>&nbsp;</div> <div>Anthony C. E. Quainton</div> <div>Appointment: Feb 4, 1976</div> <div>Presentation of Credentials: Feb 20, 1976</div> <div>Termination of Mission: Left post, Jun 9, 1978</div> <div>&nbsp;</div> <div>Goodwin Cooke</div> <div>Appointment: Oct 11, 1978</div> <div>Presentation of Credentials: Nov 4, 1978</div> <div>Termination of Mission: Left post, Jul 13, 1980</div> <div>Note: Albert E. Fairchild served as Charg&eacute; d'Affaires ad interim from Dec 1979 to Jul 1981.</div> <div>&nbsp;</div> <div>Arthur H. Woodruff</div> <div>Appointment: May 7, 1981</div> <div>Presentation of Credentials: Jul 10, 1981</div> <div>Termination of Mission: Left post, Aug 2, 1983</div> <div>&nbsp;</div> <div>Edmund DeJarnette</div> <div>Appointment: Oct 7, 1983</div> <div>Presentation of Credentials: Nov 17, 1983</div> <div>Termination of Mission: Left post, May 26, 1986</div> <div>&nbsp;</div> <div>David C. Fields</div> <div>Appointment: Oct 16, 1986</div> <div>Presentation of Credentials: Dec 4, 1986</div> <div>Termination of Mission: Left post, Oct 3, 1989</div> <div>&nbsp;</div> <div>Daniel Howard Simpson</div> <div>Appointment: Nov 21, 1989</div> <div>Presentation of Credentials: Feb 6, 1990</div> <div>Termination of Mission: Left post, Dec 15, 1992</div> <div>&nbsp;</div> <div>Robert E. Gribbin, 3rd</div> <div>Appointment: Jun 15, 1992</div> <div>Presentation of Credentials: Jan 16, 1993</div> <div>Termination of Mission: Left post, Sep 16, 1995</div> <div>&nbsp;</div> <div>Mosina H. Jordan</div> <div>Appointment: Jun 27, 1995</div> <div>Presentation of Credentials: Nov 29, 1995</div> <div>Termination of Mission: Left post Mar 31, 1997</div> <div>&nbsp;</div> <div>Robert Cephas Perry</div> <div>Appointment: Oct 12, 1998</div> <div>Presentation of Credentials: Feb 1, 1999</div> <div>Termination of Mission: Left post Jul 1, 2001</div> <div>&nbsp;</div> <div>Mattie R. Sharpless</div> <div>Appointment: Oct 1, 2001</div> <div>Presentation of Credentials: Dec 14, 2001</div> <div>Termination of Mission: Left post Dec. 2, 2002</div> <div>&nbsp;</div> <div>Note: Embassy was reopened Jan 2005. A. James Panos served as Charg&eacute; d&rsquo;Affaires ad interim, Jan 2005&ndash;Jul 2007.</div> <div>&nbsp;</div> <div><b>James Panos</b></div> <div>A native of Los Angeles, A. James Panos served as the US Charge d'Affaires to the Central African Republic for two years beginning on April 14, 2005. Panos received degrees from Princeton University and the Johns Hopkins University School of Advanced International Studies. He speaks French, Spanish, Portuguese, Greek and Turkish.</div> <div>&nbsp;</div> <div>Panos worked in business before joining the State Department in 1997. He has served at embassies in Mozambique, Turkey, Haiti and at the US Mission to the United Nations. Prior to his stationing in the CAR, Panos was Charge d'Affaires at the newly re-opened American Embassy in Malabo, Equatorial Guinea.</div> <div><a href="http://www.state.gov/outofdate/bios/p/44638.htm">James Panos's Official Biography</a></div> <div>&nbsp;</div> <div><a href="http://www.state.gov/r/pa/ho/po/com/10449.htm">Former U.S. Ambassadors to the Central African Republic</a></div> <div>&nbsp;</div>
more
less
Central African Republic's Ambassador to the U.S.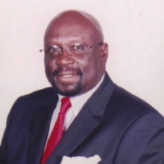 Touaboy, Emmanuel
Emmanuel Touaboy has served as the Central African Republic's Ambassador to the US since February 14, 2001. Born August 4, 1951, Touaboy earned a batchelor's degree in geography at the Uniersity of Abidjan in Ivory Coast and a doctorate in international relations at the Institute of International Relations in Cameroon. Although Touaboy worked for former CAR President Ange-Félix Patassé, he was also well-placed when Patassé was overthrown in 2003 by François Bozizé, and one of Touaboy's younger brothers was a bodyguard for Bozizé. Early in his term in the US, Touaboy was a leading backer of the US oil firm Grynberg Petroleum. In March 2008, Touaboy joined the advisory board of the Jarch Management Group, which hopes to develop oil reserves in Southern Sudan. Touaboy will be leaving his post in Washington, D.C., in July to become the CAR's ambassador to China.
more
less
Central African Republic's Embassy Web Site in the U.S.
<div>Central African Republic's Embassy in the U.S.</div> <div>1618 22nd Street, NW</div> <div>Washington DC 20008</div> <div>Telephone: <span class="skype_pnh_print_container">(202) 483-7800</span></div> <div>Fax: (202) 332-9893</div> <div>&nbsp;</div>
more
less