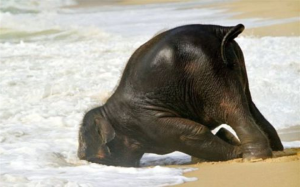 As the Republican Party failed to pass a health care replacement to Obamacare, I was reminded of an old soccer joke.
Keep in mind that since it was enacted in March 2010, Republicans in the House of Representatives have voted more than 60 times to either repeal, water down or otherwise alter the Affordable Care Act. Then, in January 2017, their dream came true. Republicans controlled the White House and both houses of Congress. What could possibly go wrong?
So, here's the old soccer joke, updated.
Argentina is scheduled to play a friendly match against Scotland. When Argentina's star, Lionel Messi, arrives in the locker room, he's surprised to see all of his teammates downcast. "What's the problem?" he asks.
"Well, you know, it's only Scotland and it's not even a match that counts. We just don't feel motivated."
"Don't worry about it, guys," says Messi. "I'll take them on by myself. You go out and have a good time."
The Argentine players are thrilled. They go off to a nearby bar and begin partying. After a while, one of them remembers the match and checks the progress of the score. "Argentina—1; Scotland—0. Goal: Messi (21st minute)."
The Argentines shake their heads. "Lionel is the greatest. Imagine, one against eleven and he's ahead." The players are being admired by the local women and they begin drinking heavily. About an hour and a half later, they suddenly remember the match. They check their cell phones. "Final score: Argentina—1; Scotland—0."
"Messi is unbelievable," the players exclaim. They pay their bills and rush back to the stadium. But when they enter the locker room, they find Lionel Messi holding his head in his hands, despondent.
"What's wrong?" the players ask.
"I've let you down," says Messi.
"What? You singlehandedly defeated Scotland 1-0."
"Yes," says Messi, "but I was given a red card and sent off after 25 minutes."
My apologies to my Scottish friends, but that's the Republicans. They had the pitch to themselves, with no opponents on the field, and they still couldn't put the ball into the net.