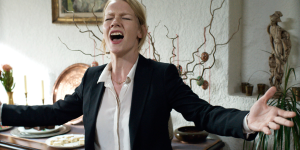 This year, a record 85 countries entered films in the Foreign Language category for the Academy Awards. I saw 82 of these films. Before commenting on individual films, here are a few observations.
1. Normally, there are few comedies entered in this category, but this year was an exception. I attribute this to Sullivan's Travels Syndrome, named after the classic 1941 Preston Sturges film. When times are hard and people are struggling to keep their heads above water, a good laugh goes a long way. Clearly, these are hard times around the world. Heading this list is my favorite film of the year: Toni Erdmann (see below).
2. Subtitle writers have become obsessed with using the words "moron" and "dude."
3. A recurrent theme is the corruption of the justice system, starting with the police, but continuing into courtrooms.
4. Another recurrent subject is economic migration.
5. And another is the aftermath of war rather than war itself.
6. Unless, you're a big-name director, it takes longer to raise the money to make a film than it does to make the film itself.
7. This was a great year for films from the former Yugoslavia.
Here are my comments on the five nominees and several non-nominees that deserve more attention.
The 5 Nominees
Germany—Toni Erdmann
If Toni Erdmann does win the Foreign Language Oscar, it will be the first comedy to do so since Life is Beautiful in 1998, and that was barely a comedy considering that it dealt with the Holocaust.
Wilfried (Peter Simonischek) is a semi-retired music teacher who, as we learn in the first two minutes, has a taste for practical jokes. When a young man appears at his door to deliver a package, Wilfried tells him that it must be for his brother who was just released from prison for sending letter bombs. "I'll go get him," says Wilfried, leaving the postman holding the package. Wilfried's daughter, Ines (Sandra Hüller), could not be more different. Working for a German consultancy firm, she is based in Bucharest and completely absorbed in her work, trying to win an important new client and holding in her emotions while fighting the sexism of the corporate world. "I'm not a feminist," she tells her boss, "or I wouldn't tolerate guys like you."
When Wilfried's dog dies, he decides to pay an unannounced visit to Ines in Romania. Eventually, wearing false teeth and a ridiculous wig, he invades and disrupts Ines' life, while posing as Toni Erdmann, a life coach (and sometimes as the German ambassador). To say that he embarrasses Ines would be putting it mildly. However, it gradually becomes clear that hidden inside Ines' stern exterior, a bit of her father's eccentric whimsy remains.
There is one scene late in the film in which Ines, goaded on by her father who accompanies her on piano, sings an amusing, but poignant, show-stopping version of Whitney Houston's "The Greatest Love of All" that has taken on a life of its own on the internet. You can watch it here.
I have read several reviews of Toni Erdmann in which Wilfried is described as a "prankster." I think it is more appropriate to use the term "practical joker" in the original sense of the phrase because his pranks usually have a practical intent.
One more note for those who have already seen Toni Erdmann: can you ever again put a glazed petit four in your mouth without pausing to take a closer look at it?
Denmark—Land of Mine (Under sandet)
The German army occupied Denmark for five years during World War II. Towards the end of that time, the Germans planted about 1,500,000 antitank and antipersonnel mines in Denmark, mostly along the west coast. After Germany was defeated, the Danes and the British made captured German soldiers defuse and clear the mines before being allowed to return to Germany.
In Land of Mine, we are introduced to Sgt. Carl Rasmussen as he beats up a German prisoner of war. When he is assigned to clear the mines buried in a large expanse of beach, he tells his German crew that he couldn't care less if they all die. But, as time goes on, he realizes that he needs them alive so that the work can be completed on time. He also realizes that the members of his crew are not the hardened Nazis he has come to hate, but among the young, teenaged Germans Adolf Hitler forced into his army late in the war. Rasmussen even asks his superior officers to send him older German soldiers, but they refuse. Gradually, Rasmussen begins to see the boys he oversees as human beings who just want to go home to their families, get a job and meet girls.
In the niche genre of bomb disposal films, Land of Mine is far more nerve-wracking than The Hurt Locker because there are more scenes of bombs being defused and because, early in the film, we are shown how it is done. So, we are on edge with every contact with the mines and every careful turning of every part.
Writer-director Martin Zandvliet shot the film on one of the actual beaches where the mine-clearing took place. By the way, the original Danish title means Under the Sand. This is one example of a revised English-language title that is better than the original.
Iran—The Salesman (Forushande)
Director Asghar Farhadi won an Academy Award in 2012 for his film A Separation. The Salesman, like its predecessor, is a family drama entwined with a criminal act. Although Toni Erdmann is the favorite in this category, The Salesman has gained extra support since director Farhadi and actress Taraneh Alidoosti announced that they would refuse to attend the Oscars celebrations as a protest against President Donald Trump's anti-immigrant policies.
Emad, a high school literature teacher, and his wife, Rana, have to flee their home in Tehran when nearby construction causes extensive damage to the building in which they live. Emad and Rana are also semi-professional actors currently performing as Willy and Linda Loman in a censored version of Arthur Miller's "Death of a Salesman." One of their theater colleagues finds them a flat in a building he manages. Unbeknownst to them, the previous tenant was a prostitute. One evening, Rana, home alone, hears the buzzer downstairs and, assuming it is Emad, whom she is expecting, buzzes open the door and steps into the shower. There she is violently assaulted by the intruder and then hospitalized.
Traumatized, Rana vacillates between wanting to be alone and not wanting Emad to leave her alone. The tension between them and with the colleague who found the flat for them spills onto the stage.
Meanwhile, Emad becomes obsessed with tracking down the perpetrator of the assault on his wife after she talks him out of going to the police. Eventually, Emad does identity the attacker (in an outstanding performance by Babak Karimi) and traps him. Should he and Rana exact revenge or extend forgiveness?
Australia—Tanna
Based on an actual 1987 incident, Tanna is an unusual variation on the Romeo and Juliet theme. The action takes place in the remote, traditional village of Yakel on the Melanesian island of Tanna in the small nation of Vanuatu.
Wawa and Dain are in love, but even though they are from the same tribe, they cannot marry because, in order to settle a violent dispute with a neighboring tribe, the Imedin, Yakel's Chief Charlie has pledged Wawa to an arranged marriage with the son of the Imedin chief. Wawa and Dain are too much in love to submit to tribal custom, so they run away, thus provoking the possibility of all-out war.
Documentary filmmaker Bentley Dean came across this story while spending seven months living on Tanna with his family. He and co-director Martin Butler heard the Yakel men sing a song:
Since the beginning of time
the chiefs have arranged marriage
along the Kastom [custom] roads. But two lovers chose to walk a different path.
Now hear their word: "You saw our love was strong
You saw how we felt
You denied us this life together
We had no choice but to say goodbye."
Dean and Butler proposed to the Yakel to make a film based on the story. The Yakel had never seen a movie before, so Dean and Butler pulled out a computer and showed them the 2006 film Ten Canoes. In the film Tanna, the actors are not professionals, but Yakel villagers. Indeed, it was the Yakel people who chose Mungau Dain to play the lead male role because they considered him the most handsome man in the village.
For those who consider tribal people "primitive," I think that those of us in the "civilized" world might learn an important lesson in conflict resolution from the Yakel.
Chief Charlie summarizes one of the messages of the film this way: "The colonial powers – we resisted. The Christians – we resisted. The lure of money – we resisted that also." But can they resist the power of true love?
By the way, the scenery in Tanna is an example of why the word "breathtaking" was invented.
Sweden—A Man Call Ove (En man som heter Ove)
A Man Called Ove is the latest entry in the overloaded category of films (and novels) about grumpy Scandinavian men. Ove is understandably depressed about losing his beloved wife to cancer and being fired from his job with the railroad after 43 years. He just wants to die and join his wife in the afterlife. He keeps trying to commit suicide, but he's not good at it. When the rope he uses to try to hang himself breaks, he brings it back to the store where he bought it and berates the staff for selling him a defective product. Meanwhile, he keeps himself occupied by patrolling his neighborhood and snarling at everyone for the most minor infractions, like putting trash in the wrong recycling bin.
Inevitably, according to the rules of the Grumpy Scandinavian genre, his misanthropy is broken down, in Ove's case by a pregnant Iranian woman who has just moved in across the street with her husband and two daughters.
As cliché-ridden as A Man Called Ove is, director Hannes Holm does make unusually effective use of flashbacks to explain Ove's story without interfering with the flow of the narrative.
A Man Called Ove is also nominated in the Oscar's Makeup and Hair Styling category. This is the second year in a row that makeup artists Eva Von Bahr and Love Larson have snatched one of the three Academy Award nominations in this category. Excuse me for being cynical, but something funny is going on in the Academy's Makeup Artists and Hairstylists Branch.
16 Notable Non-Nominees
Iraq—El Clásico
I saw this one at the Asian World Film Festival in Culver City, California, where it charmed viewers so much that it won the best picture award over much higher-profile entries.
For those who are unfamiliar with the world of soccer, the rivalry between Real Madrid and Barcelona is the most followed rivalry in the world in any sport. When the two teams meet, the match is known as "El Clásico."
Dwarf brothers Alan and Shirwan (played by real-life brothers Wrya and Dana Ahmed) live in the Iraqi Kurdish village of Hawraman near the border with Iran. Shirwan, who works for shoemaker Jalal, is a Barcelona fan. Alan, who runs a tea shop, couldn't care less about soccer, but he does care about Jalal's daughter, Gona. He and Gona want to marry, but they need the permission of Gona's father, a difficult proposition since Gona is not a dwarf. So Alan becomes a Real Madrid fan in order to win over his beloved's father. It doesn't work. Jalal rejects Alan as a potential suitor for his daughter and fires Shirwan for good measure.
Desperate and undeterred, Alan comes up with a wild scheme. Jalal has made a special pair of shoes in honor of his hero, Real Madrid star Cristiano Ronaldo. He and his brother steal the shoes and, mounting a four-wheel ATF, they head off for Madrid with the goal of presenting the shoes to Ronaldo. You need only look at a map large enough to include both Iraq and Spain to realize that this is not the easiest journey in the world. In fact, their road trip turns harrowing as they are accosted by Islamic fundamentalists who do not approve of soccer. But they also encounter a number of kind people who help them.
After the screening that I attended, director Halkawt Mustafa explained that Iraqi filmmakers normally shoot their films in Jordan, but he was determined to shoot El Clásico in Iraq itself. This was a frustrating and truly dangerous undertaking, and he vowed not to do it again. In fact, the place where he shot the scene where the brothers are attacked by fundamentalists was later, in real-life, taken over by ISIS.
Russia—Paradise (Ray)
The director of Paradise, 79-year-old Andrei Konchalovsky, has been making films since 1961. Internationally, he is best known for directing the long 1966 classic, Andrei Rublev. In the United States, he's better known for directing the not-so-classic 1989 thriller Tango and Cash. He did win an Emmy for the 1997 adaptation of Homer's The Odyssey.
Paradise tells the story of three people involved in World War II: Jules, a French officer who is collaborating with the Nazis; Olga, a Russian émigré fashion editor is who is arrested for hiding two Jewish children and turned over to Jules; and Helmut, a wealthy German who is considered an unlikely catch when he joins the overwhelmingly lower-class Nazi cause.
Actually, it is Jules, Olga and Helmut who mostly tell the story themselves, speaking directly to the camera as if they are responding to a series of questions from an unseen interrogator. Early in the film, Jules is assassinated by the French resistance…and yet he keeps telling his story. This gives us the hint that his interrogator is Saint Peter at the Gates of Heaven.
Jules had agreed to let Olga go in exchange for a sexual encounter, but after he is killed, Olga is shipped to a concentration camp which Helmut is also sent to in order to check on financial irregularities. The two recognize each other because, back when they were younger and shared a life of wealth and nobility, they flirted with each other.
Beautifully filmed in black and white, and highlighted by excellent performances by Julia Vysotskaya as Olga and Christian Clauss as Helmut, Paradise goes beyond just showing the horrors of the Holocaust to also address why people make the moral decisions that affect the lives of others.
Croatia—On the Other Side (S one strane)
Vesna is a middle-aged nurse whose husband, Zarko, is a convicted war criminal responsible for pro-Serbian massacres. His actions have had a devastating effect on his family. One son committed suicide and his other now-adult son and daughter are not only haunted by what he did, but find it hard to find work as soon as their family connection is revealed. One day, Vesna receives a call from Zarko, who has been released from prison. He wants to be reunited with his family. They want nothing to do with him. But after subsequent calls, Vesna, portrayed brilliantly by Ksenija Marinković, starts to look at herself in the mirror and recall the good times she and her husband had when they were much younger. There is a surprise ending that adds another layer to the tragedy of war, although viewers paying close attention to details in the settings might anticipate the twist. Director Zrinko Ogresta filmed each scene in a single shot, which adds a realistic intimacy to the travails of Vesna and her children.
Kosovo—Home Sweet Home
Home Sweet Home is another entry in the post-Balkan wars genre, but with a variation so clever that it stands out. Agron is a schoolteacher who joined the Kosovo Liberation Army and was presumed killed in battle. But four years later (as the film opens), he suddenly returns, having actually been held in a Serbian prison all these years. Usually with plots such as this one, he discovers that his wife has remarried, but, in Home Sweet Home, his wife, Hana, and his three children are delighted that he is alive…sort of.
The problem is that his death created great advantages for his family. Hana now has a well-paid job as the chairwoman of an organization that advocates for the rights of war widows. Not only is she able to support her family financially, she also has become a well-respected member of the community. Older daughter Ditra is accepted into medical school, but only because she is the child of a martyr. Even son Luan will lose his right to go on a field trip reserved for the children of martyrs. And then there's Agron's old friend and army buddy Bashkim, who has convinced an international NGO to donate money to the school where Agron taught, and of which Bashkim is now the principal, on the conditions that the school is renamed in honor of martyr Agron and that a bust representing Agron is installed in front of the school. So Agron, who wants nothing more than to return to his pre-war life as a teacher and a member of his community, is stuck hiding inside the house and sitting by a window watching the world outside.
Lebanon—Very Big Shot (Film Kteer Kbeer)
At first, Very Big Shot appears to be just another drug-thug film, but after a while it gradually and slyly transforms into a satire on filmmaking, the cult of TV celebrity and, ultimately, electoral politics.
Ziad, Joe and Jad are brothers who have inherited their family's Beirut pizza delivery business. In the opening scene, Ziad, a drug dealer, murders another gangster. Jad agrees to take the rap because he is a juvenile and will be released from prison after only five years. By the time he gets out, the brothers are supplementing their income by delivering "special" pizzas that include packets of cocaine.
Working for a high-level gangster, Ziad is sent across the border into Syria to deliver a truckload of he knows not what. When he gets there, he correctly figures out that the gangsters plan to snuff him out, so he kills his Syrian contacts instead and drives the truck back to Beirut. When they unload the cargo in secret, Ziad and his brothers discover that it contains a vast quantity of Captagon amphetamine powder that, if sold properly, could drastically improve the brothers' financial situation. Of course, there's the problem that the drugs really belong to the big boss, who is suspicious of Ziad's story that the boss' Syrian contacts stole the cargo. Ziad needs to get rid of the drugs as quickly as possible, but the only way to do so is to drive them back to Syria, which seems out of the question, or to fly them to Iraqi Kurdistan, which is the other accessible market for Captagon.
While trying to collect from one of the brothers' special clients, filmmaker Charbel, Ziad learns that film cans containing exposed film are exempted from x-ray screening at the airport. So he agrees to produce Charbel's pet project in order to provide cover for his export of the amphetamines inside cans of film. Shades of Bullets over Broadway, as Ziad takes a liking to filmmaking. After the shooting of one scene leads to a street riot, Ziad begins appearing as a guest on TV news and talk shows. But the big boss and his henchman are still after Ziad.
Slovenia—Houston, We Have a Problem
Houston, We Have a Problem is a fake documentary based on the premise that when Yuri Gagarin became the first man in outer space, the government of President John F. Kennedy went into panic mode, fearing that it was falling too far behind the Soviet Union's space program. Upon learning that Yugoslavia had secretly built its own space program, the U.S. bought the entire program, shipped all of its elements to Florida and then discovered that it was useless. This led the Americans to ask for their money back. None of this is true, but now that we're living in an age when even the president of the United States believes in outlandishly fake "alternative facts", who cares?
Using real intellectuals giving deadpan explanations and combining these faux interviews with actual, cleverly edited archival footage, the first half of Houston, We Have a Problem can almost be believed. But the second half becomes so absurd that it should be obvious that we are watching a satire. Or so I thought.
I conducted the question and answer session with director Žiga Virc after one showing. I thought that he and I had made it crystal clear that the story was completely fictional, yet there was an awkward moment when one audience member asked a question about how Virc mixed his satire with the truth about the "real" Yugoslav space program. Maybe she also believed that three million illegal immigrants voted for Hillary Clinton.
Switzerland—My Life as a Zucchini (Ma vie de Courgette)
My Life as a Zucchini is a charming stop-action animated film that earned an Academy Awards nomination this year in the Animated Feature category. Icare, whose nickname is Courgette [Zucchini], is sent to a small orphanage after his alcoholic mother falls down the stairs and dies. The best aspect of My Life as a Zucchini is that the people who run the orphanage are kind, as is the policeman who takes an interest in helping Courgette after handling his case. Even the orphanage bully, Simon, comes around and becomes a friend. We learn the sad stories that have landed each of the little kids in the orphanage, and yet there is nothing mawkish in the film's presentation. There is one particularly moving scene in which the children are taken on a field trip to the snow. But what really attracts the kids' attention is seeing children who have parents—and loving ones at that. Still, each of the kids has a quality that can lead them to a positive future despite the hard luck they have faced so far.
My Life as a Zucchini is scheduled for release in the United States the same week as the Academy Awards. I'll be curious to see how the U.S. version deals with one scene in which the children discuss sex innocently, but explicitly.
Malaysia—Beautiful Pain (Redha)
Beautiful Pain is a moving and unusually realistic portrayal of a couple coming to terms with the fact that their son is autistic. Razlan manages an island resort for tourists and attributes his son Danial's strange behavior to him being a "late bloomer." His wife, Alina, correctly suspects that something more serious is going on. With the help of her sister, she brings Danial to Kuala Lumpur, where specialists confirm that he is autistic. Although she and Razlan encounter rude strangers who blame them when Danial acts out of control in public, they are also helped by numerous sensitive and supportive people, both friends and strangers.
Director Tunku Mona Riza answered questions at the screening I attended at the Asian World Film Festival. I was startled to learn that the child who plays eight-year-old Danial is a non-autistic actor named Harith Haziq. Riza had Harith live with a real autistic boy for two weeks. Whenever the boy did something odd, like rolling around on the floor at a shopping mall and making strange noises, Harith had to do the same thing.
Riza and her producer-husband, Haris Solong, showed the film all over Malaysia and used the money raised to open support centers for the parents of autistic children. Hats off to Tunku Mona Riza and everyone else associated with Beautiful Pain for creating a film that is both a good story and made the world a better place.
Bangladesh—The Unnamed (Oggatonama)
In a poor, Muslim fishing village, single mother Beauty dreams of getting a visa to work in a rich Middle Eastern country. To do so, she juggles admirers police constable Farhad and manpower agent Ramjan. But this seeming light romantic comedy soon turns towards tragedy when a call from the Ministry of Expatriate Workers informs the local police that one of their young villagers, Wahab, has died in an accident, presumably in the United Arab Emirates. However, when Farhad breaks the news to Wahab's father, it turns out that Wahab is very much alive in Italy, and the father even gets him on the phone to prove it. Ramjan is forced to admit that he doctored Wahab's old passport and used it to get another, poorer villager, Asir, a job abroad.
Asir's family is devastated, but his father is pressured to accompany Ramjan and the police to Dhaka to retrieve his son's body. When the coffin is opened back in the village, it's discovered that the body inside is not that of Asir, but of a non-Muslim, who appears to be from South India.
Asir's father and the others return to Dhaka to find someone to take responsibility for the body, which is now beginning to decompose, but all they encounter is one bureaucrat after another refusing to help. It falls to Asir's humble father to treat the body of the unknown stranger with the respect that any human deserves.
Hungary—Kills on Wheels (Tiszta szívvel)
Kills on Wheels is not your typical film about disabled people. Zoli and Barba are roommates in a rehab center. Zoli, who has severe spinal problems, is wheelchair-bound and will die young unless money can be raised to send him to Germany for an operation. Despite the pleadings of his mother, he refuses to ask his father, who abandoned them when he was an infant, for financial support. Barba has cerebral palsy. The two of them are creating a graphic novel that they hope will win them money and recognition and maybe even girlfriends, although Barba has an annoying habit of spraying deodorant on the outside of his clothes. At the center, they meet ex-firefighter János Rupaszov, who is paralyzed below the waist and, like Zoli, is wheelchair-bound. He's also a free-lance hitman for a sinister Serbian gangster. A hitman in a wheelchair? Yes, and he's good at it. There's one particularly tense scene in which János, with the help of Zoli and Barba, assassinates a slick lawyer in a public square. As witnesses search for the assassin, it never occurs to anyone that it could be the unkempt guy in the wheelchair.
Zoltán Fenyvesi, who plays Zoli, and Adám Fekete, who plays Barba, are, in fact, disabled.
Philippines—Ma' Rosa
Jaclyn Jose won the best actress award at the Cannes Film Festival for her understated role as Rosa Reyes—Ma' Rosa—who runs a convenience store in an impoverished neighborhood on the outskirts of Manila. Scratching for every peso they can raise, she and her husband, Nestor, supplement their income by selling small quantities of illegal drugs. Barely 20 minutes into the film, the police raid the store, find the evidence they need and haul Rosa and Nestor to police headquarters—not to arrest them, but to threaten them with arrest unless they pay about $4,000 to the officers in charge, an amount that is way beyond their means. The police coerce Rosa and Nestor into ratting on their supplier, from whom the police try to extort an even larger sum.
Eventually, three of Rosa and Nestor's four children agree to go out and do anything they can to raise the money required to release their parents from police custody. They do so in a stoic manner, imbued with family love and solidarity, the end goal of which is get Rosa back to square one in her unending struggle against poverty.
India—Interrogation (Visaaranai)
Ma' Rosa was not the only foreign entry this year to deal with police corruption—not by a long shot. The most powerful of the others is Interrogation, which also portrays one of this year's other big themes: economic migration.
Pandi and three of his friends from Tamil Nadu have migrated to the city of Guntur in neighboring Andhra Pradesh. They live in a park because they can't afford housing even though they are working. One day they are arrested for a crime they know nothing about because the local police chief, for political reasons, is under pressure to close the case as opposed to, say, solving it. He makes sure the four innocent Tamils are beaten and tortured until they confess.
Just in the nick of time, an honest cop from Tamil Nadu arrives and helps to get them released and charges dropped…on the condition that they help him with another case he is working on involving a corrupt auditor who needs to be arrested outside Tamil Nadu to avoid implicating higher-ups. Released from jail and brought back to a police station in their home state, three of the four innocents are put to work cleaning the station. But then they witness the murder of the auditor and their situation goes from bad to worse.
All this would seem melodramatic were it not for the fact that the story is inspired by the true case of M Chandrakumar, an auto rickshaw driver who wrote a novel, Lock-Up, based on his experiences more than thirty years ago being incarcerated and tortured in Guntur for a crime he knew nothing about.
Serbia—Train Driver's Diary (Dnevnik masinovodje)
Yes, I have a penchant for eccentric comedies, so Train Driver's Diary is right up my alley. Director Miloš Radović's grandfather was a famous train driver, so he grew up being aware of train driver culture. Part of being a train driver in Serbia is that eventually you will kill people. Not on purpose, of course, but because some people commit suicide by lying on the tracks or their car stalls on the tracks or they think they can cross the tracks before the train comes, etc.
Ilija, a bachelor and third-generation train driver, is coming to the end of his career, during which he has killed 28 people. Along with other train drivers and their families, he lives in a depot community of abandoned railroad cars. When Ilija almost runs over 10-year-old orphaned Sima, who is trying to commit suicide, he saves the boy and adopts him. As Sima grows up, he wants to become a train driver like Uncle Ilija, something Ilija does not want. But Sima is determined and Ilija can't stop him.
The problem is that Sima is a virgin—no, not that kind (his fellow train drivers take care of that in the traditional way)—but rather because he has never killed anyone. This is so important that when Ilija comes across a man about to kill himself by jumping off a bridge, Ilija offers him 100 Euros to wait one day and lie down on the tracks instead.
Ilija, by the way, is played by Lazar Ristovski, who also played Zarko in On the Other Side (see above).
United Kingdom—Under the Shadow
I am not a fan of horror movies. Nothing against the genre, I just don't particularly like it. But even I found Under the Shadow riveting and frightening. Although it is the entry from Great Britain, the characters speak Farsi because the story takes place in Tehran during the final year of the catastrophic Iran-Iraq War. The story is inspired by director Babak Anvari's own life growing up in those frightening times.
Shideh is denied entry into medical school because of her earlier political activities, so she is forced to stay at home with her little daughter, Dorsa, while her husband, who is already a doctor, is sent to the front lines to take care of injured soldiers. Under the strict Islamic regime, Shideh must close the curtains before watching her bootleg Jane Fonda exercise video.
As bombs fall on Tehran and a missile lands in her building without exploding, the inhabitants of the building begin fleeing the city. And strange things begin happening. Dorsa's favorite doll disappears. Shideh's Jane Fonda tape ends up in the garbage. Is a djinn taking possession of Dorsa? Shideh, in defiance of her husband, refuses to leave. However, let's just say that it gets scarier and scarier and creepier and creepier.
As I said, I'm not a horror fan, but this is one well-made film on all levels.
Argentina—The Distinguished Citizen (El ciudadano ilustre)
I find it hard to resist films that combine philosophy and humor, so I took a liking to The Distinguished Citizen. We are introduced to novelist Daniel Mantovani, an Argentinian living in Barcelona, as gives his acceptance speech after being awarded the Nobel Prize for Literature. He makes it clear that this recognition by such a respected, but superficial crowd means that he has lost his irreverent edge and his career might as well be over. Fast forward five years, and Daniel is sitting with his assistant turning down one high-level invitation after another. But, out-of-the-blue, he decides to accept an invitation to return to his small hometown of Salas, which he hasn't visited for almost 40 years, but which he has used as fodder for his novels.
To say that the visit does not go well is an understatement. Sure, there are those townsfolk who are thrilled that one of their own became so famous and that they may have inspired one of his fictional characters, but others are resentful that Daniel became rich and famous by mocking them in print. And then there's the personal life he left behind so long ago, like the girlfriend he abandoned and his best friend whom she married…and the young literary groupie he has sex with not realizing that she's their daughter.
Slovakia—Eva Nová
I can't leave the subject of foreign language films without putting in a word for Slovakia's entry, Eva Nová, and its star, Emília Vásáryová. I wince when I look at the list of nominees in the Academy's Best Actress category. I don't want to name names, but some of the American nominees just don't hold a candle to several of the actresses in the 82 foreign language entries I watched this year. It's true that Isabelle Huppert gained a nomination for her performance in France's Elle, but there have been numerous more impressive performances than those of the other four nominees. You can start with Sandra Hüller in Toni Erdmann, and add Julia Vysotskaya in Paradise and Ksenija Marinković in On the Other Side, but the real winner goes to Emília Vásáryová. Now 74 years old, Vásáryová has been acting in films for 55 years. A Slovak friend of mine described her as "the Sophia Loren of Slovakia" because she has given great performances at every stage of her career.
In Eva Nová, Vásáryová plays Eva, a washed-up former star and sex symbol who destroyed her career by abusing alcohol. Now in her sixties, she is trying to put her life back together. Despite still being a talented actress, no one will hire her, and she is forced to work as a shelving clerk at a grocery store, while trying to reconcile with the son she abandoned, who is now, himself, alcoholic. Because she has spent her whole life acting, even she has trouble determining when she is being sincere.