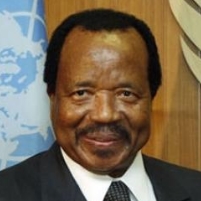 On October 9, the nation of Cameroon in west-central Africa will hold a presidential election. There will be 23 candidates, but there isn't much doubt which one will win…78-year-old Paul Biya, who has ruled Cameroon for 29 years. In fact, Biya is a specialist in creative rigging of elections. Once he even hired his own set of American election observers to report that an election he won was free and democratic (see below). This time around he has come up with a novel method of making sure that the outside world will be impressed by his defeat of a large number of opponents. To run for president, a politician must put up 5 million Central African Francs (CFAs). He then receives 25 million CFAs to run his campaign. According to Cameroonian journalist Ntemfac Ofege, "All the candidates have to do is rush to the nearest bank, microfinance institution, credit union or whatever, and demand a short term loan of 5 million CFA. They collect 25 million CFA from the state; pay back their short-term loan and report a profit of at least 15 million CFA."
THE NATION—As a political entity, the West African nation of Cameroon was patched together by European colonial powers. The population of more than 16 million speaks 279 languages. Slightly more than half of Cameroonians are Christians, a quarter follow traditional belief systems, and about 22% are Muslims. There are approximately 260 distinct ethnic groups. Since achieving independence in 1960, Cameroon has been ruled by one party and only two presidents. Cameroon is Africa's largest producer of timber and it is the world's fifth-largest producer of the cocoa that goes into making chocolate. The nation has the reputation of being one of the most corrupt countries in the world and actually earned Transparency International's number-one ranking as corruption champion two years in a row, in 1998 and 1999.
PRE-BIYA—The Germans claimed Cameroon as a colony in 1884. Following World War I, the Treaty of Versailles divided the colony between France and Great Britain. The French granted East Cameroon independence on January 1, 1960. On October 1, 1961, the British gave up control of West Cameroon and it joined East Cameroon to form a single country. French-educated Ahmadou Ahidjo, a Muslim from the north, took over as president and stayed in power for twenty-two years until he unexpectedly resigned on November 6, 1982, apparently because his French doctors told him that he had a terminal disease. Ahidjo did retain his position as head of Cameroon's lone political party. He was replaced as president by the prime minister, Paul Biya, a Roman Catholic from the Beti ethnic group in the south. Ahidjo did not have a terminal illness, but by the time he realized this, Biya had squeezed him out of the party leadership and forced him to flee the country. Ahidjo eventually died in Senegal in 1989.
THE MAN—Born February 13, 1933, Biya studied in Paris and received a degree in public law. After working for two years in the presidential palace, he became director of the office of the minister of education and then moved up to secretary-general of the Education Ministry. After serving as secretary-general of the presidency, Biya was named prime minister by Ahidjo in June 1975.
At the time that Biya assumed office in 1992, Cameroon enjoyed a booming economy with solid exports of cocoa, timber, and coffee and a growing petroleum industry. Thanks to corruption and ethnic cronyism, Biya destroyed the economy. While Biya and his friends grew rich on oil money, the Cameroonian economy shrank for nine straight years beginning in 1987.
In January 1984, Biya stood for election for president and managed to win 99.98% of the vote. It is not known what happened to the two-hundredths of one percent of the voters who managed to vote against him. To be on the safe side, Biya eliminated the position of prime minister so that no rival politician could create his own power base. Three months after the election, he put down a mutiny by the mostly Islamic Republican Guard, which he blamed on Ahidjo, who was condemned to death in absentia. To demonstrate that he was not a dictator, Biya changed the name of the only legal political party from the National Cameroonian Union to the Cameroon People's Democratic Movement (RDPC). In 1988, he was reelected president, although his vote percentage slipped to only 98.75%.
CONTROLLING THE OPPOSITION—Under pressure at home and from abroad, Biya legalized opposition parties in 1990, but strikes and pro-democracy protests in 1991 left more than 100 dead. Forty-eight parties took part in March 1992 legislative elections. The RDPC won 88 of the 180 seats and, with the help of sympathetic small parties, cobbled together a working majority. Presidential elections had been scheduled for a year later, but Biya moved them up to October 1992 to give the opposition less time to organize. The U.S.-based National Democratic Institute for International Affairs arrived in Cameroon to help train election officials, but stayed to observe the election and to watch in dismay as the government ignored normal democratic procedures. "It would not be an exaggeration," the observers would later report, "to suggest that this election system was designed to fail." The government-controlled television gave Biya 142 minutes of time to present his case, while allowing the opposition parties a combined total of 12 minutes. Names of eligible voters were crossed off the registry and there were widespread reports of multiple voting and voting by underage residents. In some areas known to be anti-Biya, polling sites were moved without warning to reduce turnout. The territory of Rey-Bouba in the district of Mayo Rey blocked all political party pollwatchers from entering. Results by polling site were never published.
The election took place on October 11. A week later, George Achu Mofor, the governor of East Province, resigned to protest the way the central government had forced him to use any means necessary to ensure a Biya victory in his province. The election results were announced on October 23. Biya won with 39.9% of the vote. John Fru Ndi, the English-speaking head of the Social Democratic Front, was given 35.9%, an affront which landed him in house arrest; and a third major candidate, former prime minister Bello Bouba Maigari, won 19.2%. Demonstrations in English-speaking Western Cameroon were so large that Biya imposed a state of emergency in the region and ordered mass arrests of opposition supporters. Despite the dubious aspects of the election, the French government congratulated Biya on his victory. At the time, the French oil company Elf Aquitaine monopolized oil exploration off the coast of Cameroon.
In 1996, students at the University of Cameroon's Yaounde 1 campus boycotted classes to protest a hike in fees that was so broad that it included usage charges both for the library and for toilets. When the strike spread to other campuses, the government sent in troops who beat a student to death. By the time of the 1997 parliamentary elections, Biya had learned his lesson. His party manipulated the voting much more efficiently and gained a clear majority of the seats. In the presidential election later that year, Biya claimed to win 92.6% of the votes.
By this same time, Biya was cracking down on privately owned newspapers, arresting and imprisoning journalists. In one particularly notorious case, Pius Njame, the editor of an independent French-language newspaper, reported that Biya had suffered a "malaise" and a possible heart attack while attending the 1997 Cameroon Cup soccer final. Njame was convicted of "spreading false news" and served ten months in prison.
THE PIPELINE—Although Cameroon attracted the attention of the oil industry, its reserves were relatively limited. But the industry had other plans for Cameroon. Northeast of Cameroon, the landlocked nation of Chad was found to have plenty of oil. A consortium of ExxonMobil, Royal Dutch Shell, and Elf Aquitaine drew up plans for a $3.7 billion project that would sink 300 wells in Chad and run the oil to the Atlantic coast via a 665-mile-long pipeline they would build across Cameroon. Because the regimes of both Biya and Chad's Idriss Déby were notorious abusers of human rights, and because of the high potential for environmental degradation, Shell and Elf pulled out of the project. With billions of dollars of profits on the line, ExxonMobil found two new partners, Chevron and Petronas of Malaysia, and plunged ahead in promoting the plan. Construction of the pipeline, which began in October 2000, threatened the destruction of the lives of 100,000 Bagyeli Pygmies living in the region and in some cases their eviction. The World Bank backed the project, making it the bank's single-largest investment in sub-Saharan Africa, and the pipeline was completed in July 2003.
Meanwhile, human rights groups were reporting systemic torture, the kidnapping and disappearance of political dissidents, and a legal code that permitted forced female genital mutilation and allowed rapists to avoid prosecution if they marry their victims. Biya keeps such tight control over the country that his office approves all public appointments all the way down to village police officers. In the words of lawyer Charles Taku, "To get such a job or a business license…you have to show that you support the president actively, that you love him and his party."
HUMAN RIGHTS—THE VANISHING ACT—In 2002, Paul Biya caught a break. Cameroon happened to be serving a two-year term as a member of the United Nations Security Council when U.S. president George W. Bush decided to invade Iraq and needed the support of Security Council members. Biya, a longtime friend of France's president, Jacques Chirac, found himself being wooed by Bush and visited him in the White House the day that the U.S. began its bombing of Baghdad. U.S. secretary of state Colin Powell praised Cameroon as "a place of stability" and promised that "we will do everything we can to strengthen the government." The criticisms of Biya's human rights record, which had been catalogued in the reports of Powell's own State Department, were swept aside as if they had never happened.
CREATIVE ELECTION RIGGING—In 2004, Biya faced a new presidential election and came up with a new and novel tactic in the world of rigged elections. In previous elections he had perfected the arts of suppressing opposition campaigning and stacking the voter rolls. But he faced criticism from international election-monitoring groups. In July 2004, he signed a $400,000 deal with the Washington, D.C., law and lobbying firm of Patton Boggs to improve Cameroonian ties with the United States at a time when the State Department had said that Biya's security forces had "committed numerous unlawful killings and were responsible for torture, beatings and other abuses," and that the government "continued to arrest and detain arbitrarily various opposition politicians." One of the Patton Boggs lobbyists, former U.S. Representative Greg Laughlin, a Texas Democrat, put together a bipartisan observer group called the U.S. Association of Former Members of Congress. With Biya's government covering the bills, the Association flew in six ex-congressmen, who observed the October 11 presidential election in which Biya claimed a 71% landslide, declared it a free election, and flew home. One of the former congressmen, Ronnie Shows, a Democrat from Mississippi, enthused, "This is what democracy is about." Another observer group from the Commonwealth nations, led by former Canadian prime minister Joe Clark, saw the election process differently. They said that the registration process, which the U.S. group had arrived too late to observe, had "missed a considerable portion of the voting-age population of Cameroon." "We ran into swarms of people who had been declared ineligible to vote," said Clark. The Catholic Bishop's Conference of Cameroon also accused Biya's government of vote-rigging.
THE ECTOPLASM—Biya's first wife, Jeanne-Irene, died in 1992, leaving behind two sons and a daughter. Two years later the sixty-one-year-old Biya married a twenty-four-year-old named Chantal and began spending an increasing amount of time on vacation. Cameroon's leading novelist, the late Mongo Beti, once described Biya as an "ectoplasm" and another time as a "zombie." Because Beti also had harsh words for John Fru Ndi, Biya let him get away with it, although Beti was roughed up by police at demonstrations.
-David Wallechinsky