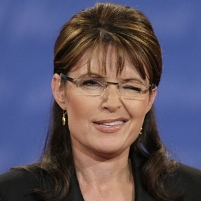 Speculation about the reason behind Sarah Palin's surprise resignation as governor of Alaska has centered on her national political ambitions, possible unrevealed legal problems and maybe yet another pregnancy. More likely, Fox News or another TV network has made her an offer she can't refuse.
Why settle for being the governor of a state with a population the size of Columbus, Ohio, when you can have triple the audience with your own show on Fox News? And why settle for the paltry salary of a state executive when you can make millions on television? When you're a politician and you want to spend $150,000 on clothes, you get in trouble, but spend the same amount on clothes as a talk show host and it's a legitimate tax write-off.
Let's face it, being a government official is a hassle. Say something stupid and half the country makes fun of you. Say something stupid on television and your ratings go up. Punish your personal enemies and you're accused of ethical violations. Do you same in the world of TV and you fit right in.
Good luck, Sarah. We'll see you in prime-time.