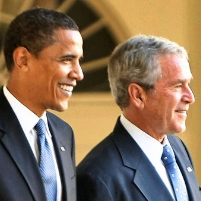 To the disappointment of many of his supporters, President Barack Obama has chosen to continue the policies of George Bush in unexpected ways. Administration sources are leaking the news that Obama will in fact try some suspected terrorists before military commissions rather than civilian courts. He also remained quiet about a provision in the AmeriCorps expansion that cuts members' ties with abortion services. And as Obama ramps up the war in Afghanistan, he is faced with the problem of the killing of civilians, which is alienating the locals he is trying to win over.
Meanwhile, in the animal kingdom, it seems that swine are not the only species having a hard time.
White Nose Syndrome has killed half a million bat
s, leading the Forest Service to bar humans from entering bat-inhabited caves the next 12 months.
-David Wallechinsky