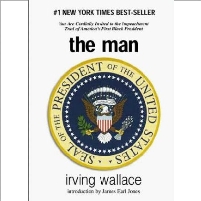 One evening in 1964, when I was in high school, a man telephoned our home and warned that he was coming to our house to kill my father. What had my father, Irving Wallace, done to provoke someone to want to murder him? He had written a novel, The Man, about a black man who becomes President of the United States.
Forty-four years after that night, we really will have a black president, not in a work of fiction, but in real life. In The Man, the hero becomes president through the law of succession. Real life has turned out even better because the majority of American voters chose Barack Obama to be their president.
Who are the big winners in this event? Obama, of course, because he will now wield an enormous amount of power. The Democrats, too, because a lot of money that has been filling Republican pockets the last few years will now migrate into Democratic pockets.
But I think the real winners are the American people. We Americans like to think of ours as a special nation, one that inspires and sets an example for other nations. In this case, this is exactly what is happening.
No matter what kind of president Obama turns out to be, the American people have demonstrated that, despite a long history of racial discrimination, they could choose as their leader a member of a racial minority. Not only does this raise enormously the prestige of the United States around the world, but it serves as a true inspiration for other nations. The United States is hardly the only country in the world that faces problems of racial and ethnic conflict. Around the world, hundreds of millions, if not billions, of people are thinking that if the American people can overcome their differences and elect a member of a minority, maybe we can overcome similar differences in our country.
The nature of an Obama presidency remains a mystery, and the United States is still, by no means, a racial and ethnic utopia; but to progress, in the space of one lifetime, from death threats about a fictional black president to electing a real one…that's something we Americans can be proud of.