United States Ambassador to Lesotho: Who Is Rebecca Eliza Gonzales?
Tuesday, October 24, 2017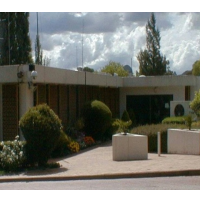 U.S. Embassy in Maseru, Lesotho
Rebecca Eliza Gonzales, a career member of the Foreign Service, was appointed September 7, 2017 to be U.S. Ambassador to the Kingdom of Lesotho. If she's confirmed, it will be her first such appointment.
Gonzales was born May 19, 1963, in Sumter, South Carolina, but considers herself a Texan. Her late father, Jose Rene, was an Air Force officer from San Benito, Texas. Her mother's name is Estella and she has a brother, Jerome. Gonzales graduated from George Washington University with a bachelor's degree in international affairs in 1984 and with an MBA concentrating on international marketing in 1992. Before joining the Foreign Service that year, Gonzales worked as a paralegal and a secretarial assistant, and as a Freedom of Information officer at the State Department,
Gonzales' first assignment, in 1992, was as a special assistant/economic/consular officer at the embassy in Panama City, Panama. In 1995, she was named a management/consular officer in Athens, Greece; and in 1997 a general services officer in Bogotá, Colombia.
Gonzales was sent to New Delhi, India, in 2000 as a financial management officer in the embassy there. Two years later, she was a supervisory general services officer in Riyadh, Saudi Arabia. Gonzales returned to Washington in 2004 as post management officer in the Bureau of Near East Affairs. The following year, she was made special assistant in the Office of the Under Secretary for Management.
In 2006, Gonzales was sent to the U.S. embassy in Botswana as a management officer. She moved to Pretoria, South Africa, in 2010 as deputy management counselor.
Gonzales was back in Washington in 2013, first as deputy executive director in the Bureau of Near East Affairs, and then in 2016 as chief of staff in the Bureau of Administration, a post she held at the time of her nomination.
Gonzales speaks Spanish and Greek.
-Steve Straehley
To Learn More:
Certificate of Demonstrated Competence
Rebecca Eliza Gonzales (Prabook)