Surveillance Court Finds U.S. Spy Agencies' Improper Handling of Data "Disturbing"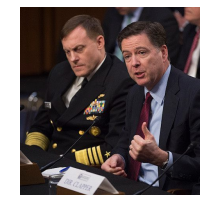 NSA chief Michael Rogers (L) and FBI director James Comey (photo: Molly Riley, AFP/Getty Images)
By Jack Bouboushian, Courthouse News Service
(CN) — A top-secret federal court has called the NSA and FBI's retention of personal information "disturbing and disappointing," and ordered the monitoring agency to reveal how it will destroy such information going forward.
Considered to be the nation's most secretive court, the Foreign Intelligence Surveillance Court (FISC) primarily deals with U.S. intelligence agencies.
It released a trio of decisions this week that will keep the National Security Agency's (NSA) surveillance activities under close scrutiny.
The rulings are heavily redacted, and one is largely procedural. However, the other two lay out new oversight compliance requirements for both the NSA and the FBI.
They also show concern that the NSA may have broken the law by failing to redact information collected about its targets online.
Judge Thomas Hogan's November 2015 opinion focuses on the NSA's failure to destroy certain personal information after it became apparent that it was not needed for criminal investigations. By maintaining retention of the information, the spy agency violated "several provisions" of its internal policies, the judge wrote.
Hogan noted that the NSA is supposed to be in the process of adopting new targeting schemes to minimize surveillance, known as "minimization procedures," but has not yet submitted a report showing how it plans to comply with this.
"The government shall promptly submit in writing a report describing each instance in which the NSA or CIA invokes the provision of its minimization procedures," and describe how they comply with regulatory and constitutional requirements," the judge wrote.
Hogan also singled out the FBI, ordering it to submit a report containing each instance in which it places Americans under surveillance to "extract foreign intelligence."
"Review of individual instances suggests that at least some FBI case agents are generally aware of the requirement for a review team...but they are confused about the specific requirements," he wrote.
The 80-page ruling (pdf) appears to list several specific violations as well, but these remain redacted for now. It notes that data mined online should be deleted within two to five years unless it is part of an ongoing investigation.
Hogan concluded: "Perhaps more disturbing and disappointing than the NSA's failure to purge this information for more than four years, was the government's failure to convey to the court explicitly during that time that the NSA was continuing to retain this information."
A second ruling from December 2015, also written by Hogan, goes into greater detail about call records, ruling that, from here on out, "the government will comply...by retaining call detail records that it determines are not foreign intelligence information...for a reasonable period not to exceed six months unless extended in writing by the Attorney General."
The Office of the Director of National Intelligence quickly released a damage control statement, saying: "The government has informed the court that there was no intent to leave the FISC with a misunderstanding, and it has acknowledged that its prior representations could have been clearer."
The orders were declassified on the heels of yet another Electronic Frontier Foundation lawsuit demanding more information about government surveillance activities.
On Tuesday, the foundation sued the U.S. Department of Justice, seeking documents dealing with the federal government's efforts to compel technology companies to provide access to devices such as the iPhone, and software-related communications.
The newly revealed FISC opinions are unlikely to satisfy watchdog groups like the Electronic Frontier Foundation, which said in a recent statement that "these programs are highly controversial and should be subject to public debate."
"The court is deciding important questions in secret and the public have a right to know. Initially this court was designed as a warrant court, to allow the government to perform surveillance on targets in foreign countries," EFF attorney Aaron Mackey said. "Now it decides whether broad surveillance programs enacted by the government are constitutional."
To Learn More:
Memorandum Opinion and Order (U.S. Foreign Intelligence Surveillance Court) (pdf)
In Heavily Censored Ruling, Judge Rejects Challenge to Warrantless FBI Searches of Americans' Emails (by Charlie Savage, New York Times)
FISA Court Accused of Failing to Restrain NSA (by Adam Klasfeld, Courthouse News Service)
NSA to Sidestep Privacy Protections in Sharing Americans' Intercepted Data with U.S. Spy Agencies (by Charlie Savage, New York Times)