Real Guns Welcome in Texas College Dorms, But Candles, Toasters and Squirt Guns are Banned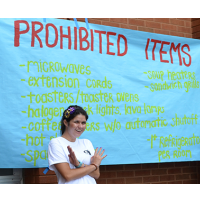 Dorm rules explained to new students (photo: James Madison University)
Texas college students will soon be allowed to carry guns on campus, but they'll have to check their toasters at the door.
A law going into effect next year will allow students at some Texas colleges to carry guns to school as long as they have a valid concealed weapons permit.
At the state's largest public university, Texas A&M, students are prohibited from having candles, toasters and Nerf guns in dorms. Christopher Ingraham at The Washington Post's Wonkblog pointed out the absurdity of students not being trusted to warm bagels safely, but given free rein to carry a deadly weapon.
Students at the University of Texas are planning to protest the law by carrying sex toys, which are forbidden under a state law banning the display of obscene materials, around campus. "You would receive a citation for taking a DILDO to class before you would get in trouble for taking a gun to class. Heaven forbid the penis." according to the event's Facebook page, which features the hashtag #CocksNotGlocks.
Texas is not the first state to allow guns on campus—seven other states beat them to it: Colorado, Idaho, Kansas, Mississippi, Utah, Wisconsin and Oregon, which earlier this month saw nine people killed and nine students wounded in a shooting at Umpqua Community College.
Nineteen states ban firearms on campuses: California, Florida, Georgia, Illinois, Louisiana, Massachusetts, Michigan, Missouri, Nebraska, Nevada, New Jersey, New Mexico, New York, North Carolina, North Dakota, Ohio, South Carolina, Tennessee and Wyoming.
-Noel Brinkerhoff, Steve Straehley
To Learn More:
In Some Texas Dorms, Nerf Guns will be Banned While Real Ones are Allowed (by Christopher Ingraham, Washington Post)
Campus Carry Allows Firearms at Texas Universities, But Leave Your Squirt Guns at Home (by Michael Marks, San Antonio Current)
At UT Austin, an 'Obscene' Protest Will Use Erotica (Rhymes with Glock) to Fight Guns on Campus (by Yanan Wang, Washington Post)
20 Teachers and Staff Will Carry Guns When Doors Open to Kids at Arkansas School This Fall (by Danny Biederman and Noel Brinkerhoff, AllGov)