Nursing Homes Bill Medicare for Maximum Amounts of Care Even When Patients Don't Need It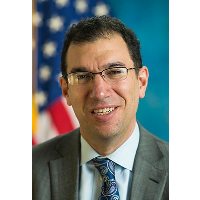 Andrew Slavitt, CMS acting administrator
Some nursing home patients are receiving far more therapy than they need so the facility can bill Medicare for the maximum allowable amount, according to a federal watchdog.
Daniel R. Levinson, the inspector general of the Department of Health and Human Services, said in his report (pdf) that nursing homes often file claims for the highest, most expensive level of therapy, which in some cases is completely unnecessary. Levinson went so far in his report as to say some nursing homes have exploited the system "to optimize revenues." These extra billings cost Medicare $1.1 billion in 2012-13 alone, according to the report.
"Skilled nursing facilities must provide therapy for 720 minutes or more during a seven-day assessment period to bill for ultrahigh therapy," and they "increasingly provided exactly 720 minutes," according to Levinson.
His report also found Medicare payments to nursing homes have increased for reasons unrelated to the condition or characteristics of patients. Even patients who are receiving hospice care and are near death are reported to have received the maximum amount of therapy. The Wall Street Journal found that between 2010 and 2013, about 110,000 patients died within five days of receiving ultrahigh therapy.
It can be difficult to anticipate when to reduce therapy, University of Michigan professor Brant Fries told the Journal. But if after ultrahigh therapy "a large number of people are ending up in a hospice, that's not a good outcome," he said, and "if you have lots of people who are dying, it doesn't make any sense why you're giving them rehab." Fries developed the classification system for nursing home patients used by Medicare.
When presented with the IG's findings, Andrew M. Slavitt, the acting administrator of the Centers for Medicare and Medicaid Services, agreed there's a problem. Slavitt said the current payment system created incentives for nursing homes to "provide as much therapy to a resident as that resident can tolerate." He also agreed with the IG that his agency should reduce Medicare payment rates for therapy in nursing homes, but added that Congress would need to authorize such a change.
-Noel Brinkerhoff, Steve Straehley
To Learn More:
Nursing Homes Bill for More Therapy than Patients Need, U.S. Says (by Robert Pear, New York Times)
The Medicare Payment System for Skilled Nursing Facilities Needs to be Reevaluated (Department of Health and Human Services, Office of Inspector General) (pdf)
How Medicare Rewards Copious Nursing-Home Therapy (by Christopher Weaver, Anna Wilde Matthews and Tom McGinty, Wall Street Journal)
One of Five Patients at Skilled Nursing Facilities Suffer Preventable "Adverse" Events (by Noel Brinkerhoff, AllGov)
Overbilling by Doctors and Hospitals Costs Medicare a Billion Dollars a Year (by David Wallechinsky and Novel Brinkerhoff, AllGov)