Can Styrofoam Food Containers Really be Recycled? New York Judge Rules Yes
Saturday, September 26, 2015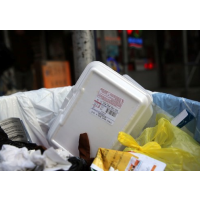 (photo: Spencer Platt, Getty Images)
Contrary to claims from New York City Hall and environmentalists, foam food containers can be recycled, according to one state judge.
Justice Margaret A. Chan of State Supreme Court in Manhattan this week threw out New York City's ban on plastic-foam food containers. The ban was adopted under then-Mayor Michael Bloomberg two years ago, and implemented in July under Mayor Bill de Blasio.
The Restaurant Action Alliance and a coalition of manufacturers, recyclers and restaurants, sued the city in April to halt the ban. They claim it is possible to recycle the containers—a contention environmentalists disagree with.
In her ruling (pdf), Chan sided with the plaintiffs, while calling the ban "arbitrary and capricious." She ordered the city's Sanitation Department to develop a recycling program based on a foam container manufacturer's promise to pay for better machines to clean and sort them and keep most of them out of landfills.
The city had argued recycling used polystyrene containers "was neither environmentally effective nor economically feasible."
"We disagree with the ruling," de Blasio spokeswoman Ishanee Parikh said in a statement. "These products cause real environmental harm, and we need to be able to prevent nearly 30,000 tons of expanded polystyrene waste from entering our landfills, streets and waterways. We are reviewing our options to keep the ban in effect."
Eric A. Goldstein, a lawyer at the Natural Resources Defense Council, told The New York Times: "There's not a single major city in the nation that has successfully implemented a recycling program for used polystyrene food containers, and the reason is simple: It doesn't make economic sense."
-Noel Brinkerhoff
To Learn More:
Judge Strikes Down New York City's Ban on Foam Food Containers (by Benjamin Mueller, New York Times)
Court Chucks Arbitrary NYC Ban on Styrofoam (by Nick Rummell, Courthouse News Service)
Restaurant Action Alliance v. City of New York (New York Supreme Court) (pdf)
House Republicans Ungreen Cafeteria by Bringing Back Styrofoam Cups (AllGov)