Beware What You Say in Front of Your Smart TV…A Third Party Could be Listening
Tuesday, February 10, 2015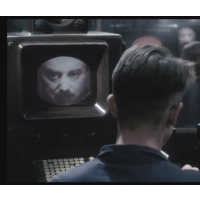 Scene from the movie "1984" (photo: 20th Century Fox)
Some Smart TV's are so smart, they can tell others what you've been saying whether you like or not.
Samsung's Smart TV has generated some worries with customers after it was revealed the voice activation feature will automatically capture conversations in front of them.
Also, the sets transmit the recordings to Samsung and/or a "third party," company executives admitted. That third party may be a firm called Nuance, which provides voice recognition software for the televisions, according to the BBC.
The controversy arose after the Daily Beast published a portion of Samsung's privacy policy informing consumers the TV sets will listen to people in the same room to pick up commands or queries.
"If your spoken words include personal or other sensitive information, that information will be among the data captured and transmitted to a third party," the policy states.
People will know if their sets are capturing their conversations, the company said, if they see the microphone icon appear on the unit's screen. Samsung insists it doesn't retain the voice data or sell it to others.
"If I were the customer, I might like to know who that third party was, and I'd definitely like to know whether my words were being transmitted in a secure form," Corynne McSherry, an intellectual property lawyer for the Electronic Frontier Foundation (EFF), told the Daily Beast. EFF posted the Samsung policy statement on Twitter, accompanied by a reference to George Orwell's novel 1984, which describes home TV screens that monitor people's private conversations.
"Depressingly enough, all of this is just more evidence that 'yes, if your smart gadget is connected to the internet, then it's probably collecting data on you.' So Samsung's privacy admission suddenly turns from surprise to status quo," wrote Darren Orf at Gizmodo. "Digital spying only adds to the already existing list of reasons why smart TVs really should die off…"
-Noel Brinkerhoff, Danny Biederman
To Learn More:
Not in Front of the Telly: Warning over 'Listening' TV (BBC News)
Samsung's SmartTV Privacy Policy Raises Accusations of Digital Spying (by Darren Orf, Gizmodo)
Your Samsung SmartTV Is Spying on You, Basically (by Shane Harris, Daily Beast)