High Levels of Potentially Dangerous Chemicals Found in Air near Oil and Gas Sites
Saturday, November 01, 2014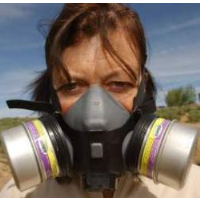 Colorado resident protects herself from nearby gas site fumes (photo: Peter M. Fredin, AP)
Living near drilling sites where oil and gas are extracted can produce a variety of health problems for local residents, according to multiple studies.
The latest scientific study, published in the journal Environmental Health, reported 40% of air samples taken near drilling sites tested positive for benzene, formaldehyde or other toxic substances that can cause cancer or other illnesses. The readings, taken from locations in Arkansas, Colorado, Ohio, Pennsylvania and Wyoming, exceeded the federal standards for safety, in cases of short- and long-term exposure.
"The implications for health effects are just enormous," David O. Carpenter, the paper's senior author and director of the University at Albany's Institute for Health and the Environment, told the Center for Public Integrity.
Carpenter's work was line in with previous studies showing the dangers of living near oil and gas operations. In September, Yale University showed "Pennsylvania residents living less than two-thirds of a mile from natural-gas wells were much more likely to report skin and upper-respiratory problems than people living farther away," the center's Jamie Smith Hopkins wrote.
In Colorado, university public health experts reported in April that 30% more congenital heart defects were found in babies born to mothers in areas with natural gas wells.
Last year, the state of West Virginia reported benzene levels above what's considered safe near four of seven gas well sites where air samples were recorded.
The studies haven't proven that the chemicals are causing illnesses in those living in surrounding areas, but they've provided a jumping-off point for more research. "Part of the problem seems to be a concerted effort, up until recently, to avoid asking the question," environmental physician Bernard D. Goldstein told the Center.
-Noel Brinkerhoff
To Learn More:
Five-State Study Finds High Levels of Airborne Chemicals Near Oil and Gas Sites (by Jamie Smith Hopkins, Center for Public Integrity)
Air Concentrations of Volatile Compounds Near Oil and Gas Production: A Community-Based Exploratory Study (by Gregg P. Macey, Ruth Breech, Mark Chernaik, Caroline Cox, Denny Larson, Deb Thomas and David O. Carpenter, Environmental Health) (abstract)
"Trade Secrets" Obscure First Look at Toxic Brew in L.A. Air from Oil Drilling (by Ken Broder, AllGov California)
Minnesota Town First to Monitor Pollution Caused by Fracking Sand on Passing Trucks (by Matt Bewig, AllGov)
Fracking Truck Sets Off Radiation Alarm at Pennsylvania Landfill (by Aaron Wallechinsky and Noel Brinkerhoff, AllGov)