Director of the Federal Housing Finance Agency: Who Is Mel Watt?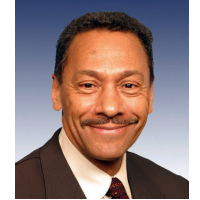 On January 6, 2014, longtime Congressman Mel Watt was sworn in as director of the Federal Housing Finance Agency (FHFA), the supervisory agency created in its current form in 2008 in response to the bursting of the housing bubble and subsequent financial crisis and Great Recession. FHFA is responsible for ensuring that Fannie Mae, Freddie Mac, and the 12 regional federal home loan banks, which help supply funds to lenders for home mortgages, are financially sound.
Born August 26, 1945, in Steele Creek, North Carolina, to Evelyn Lucille (née Mauney) and Graham Edward Watt, Melvin L. Watt grew up in a house with no running water or electricity, and graduated from segregated York Road High School in Charlotte in 1963. One of the first black students at the University of North Carolina at Chapel Hill, where he was Phi Beta Kappa and president of the business honors fraternity, Watt earned a BS in Business Administration in 1967, and a JD at Yale University Law School in 1970, where he was on the staff of the Yale Law Journal.
From 1970 to 1992, Watt practiced law in his hometown of Charlotte, specializing in minority business and economic development law at a general practice law firm known for its civil rights work, and also owned several small businesses.
Watt earned his political stripes managing political campaigns for Harvey Gantt, a Democrat who served on the Charlotte City Council from 1974 until 1983, and was the first African-American mayor from 1983 to 1987. Watt also managed Gantt's two unsuccessful campaigns for the United States Senate, which he lost to Republican Jesse Helms.
Watt's first run for office came in 1985, when he won a two-year term in the North Carolina Senate, announcing in 1986 he would not run for office again until his children had graduated high school. Six years later, Watt ran for and won a seat in the U.S. House of Representatives, representing North Carolina's 12th Congressional District as only the second African-American elected to Congress from North Carolina in the 20th century.
Serving in Congress since 1992, Watt has been a member of the House Financial Services Committee, which has jurisdiction over the banking and finance industry, and on its Capital Markets and Government Sponsored Enterprises Subcommittee and the Financial Institutions and Consumer Credit Subcommittee. Watt has also been a member of the House Judiciary Committee, and the ranking member of its Intellectual Property, Competition and the Internet Subcommittee. He served as chairman of the Congressional Black Caucus from 2005 to 2006.
Watt's work on the Finance Committee and his reliance on contributions from the banking industry to fund his political campaigns have generated criticism. Since he entered Congress in 1992, Watt has received more campaign money—$1.33 million—from financial interests than any other industry or special interest, according to the Center for Responsive Politics, a nonprofit research group that tracks money in politics. Not only does that represent 24.3% of his total fundraising over the years, but the number has been closer to 45% in recent years.
Critics charge that Watt's financial dependence on the finance industry and his cozy relationship with Bank of America have led him to be more less consumer-oriented on related issues. They point to his active role in 2009 in gutting and then killing the Federal Reserve Transparency Act, which would have forced an audit of the Federal Reserve, to his support of the Stop Online Piracy Act (SOPA), and his attempt to cut funding to the Office of Congressional Ethics after it investigated him for an ethics violation regarding campaign contributions from the finance industry.
Watt's confirmation as FHFA chief was drawn out. He was nominated by President Barack Obama on May 1, 2013. By the middle of July, the nomination had been approved by the Senate Banking Committee and was sent to the full Senate. However, on October 30, 2013, Republicans filibustered Watt's nomination, as they had many other Obama nominees. Watt was the first sitting member of Congress since 1843 to have his nomination voted down.
Senate Majority Leader Harry Reid invoked the "nuclear option," changing rules for blocking nominees so that a only simple majority was needed for approval. Under the new rules, Watt was approved by the Senate on December 10, 2013. He quickly acted after taking office to widen access to home loans.
A life member of the NAACP, Watt has served as president of the Mecklenburg County Bar and has been a member of many professional and community organizations. Before retiring from baseball in 2008, Watt was the starting pitcher for the Democratic baseball team in the annual Congressional Baseball Game and was named most valuable player in 1995, 1996 and 2000.
Mel Watt is married to Eulada Paysour Watt, an educator, and they have two sons, Brian and Jason.
-Matt Bewig
To Learn More:
Mel Watt Enjoys Close Ties to Financial Industries: Bank Leaders, PACs Made Prospective Housing Agency Leader a Top Recipient of campaign Cash (by Alison Fitzgerald, Center for Public Integrity)
Obama Choice of Charlotte Rep. Mel Watt to Regulate Mortgage Finance Sparks Controversy (by Kevin G. Hall, Franco Ordoñez and David Lightman, Charlotte Observer)