E-Cigarette Makers Lure Young People by Using other Names for their Products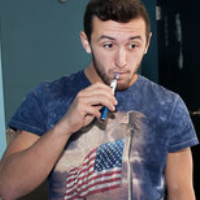 Vape pen user in Kennesaw, Georgia (photo: Marietta Daily Journal)
What's in a name? Well, if you want to market a product to adults who smoke cigarettes, you might call it an "e-cigarette." But if you want to sell the same product to teens, you'd better call it a "hookah pen" or a "vape pipe."
Electronic cigarettes, which deliver nicotine and flavor to the user but don't produce smoke, are becoming increasingly popular, not only with smokers but with young people who often make no connection between what they call "vaping" and tobacco use, according to Matt Richtel of The New York Times.
A survey by the Centers for Disease Control and Prevention found that in 2012, 10% of high school students had tried e-cigarettes. However, many teens aren't aware that hookah pens and e-cigarettes are often the same thing. "E-cigarettes have nicotine and hookah pens just have water vapor and flavor," Andrew Hamilton, a senior from Drake High School in San Anselmo, California, told the Times.
That's not always the case. Both devices use a fluid that contains flavor. With devices marketed as e-cigarettes, the fluid also contains nicotine. But the fluid used in hookah pens and vape pipes, which comes in flavors such as bubble gum and chocolate, often contains nicotine as well.
The Food and Drug Administration (FDA) currently regulates only e-cigarettes that are marketed for therapeutic purposes. But some municipalities are taking their own steps to restrict their use. The Los Angeles City Council voted this week to treat e-cigarettes the same as regular cigarettes, whose use has been restricted in California since 1995. Los Angeles Mayor Eric Garcetti is expected to sign the ordinance. New York and Chicago already have similar regulations in place.
The Smoke Free Alternatives Trade Association, which represents e-cigarette makers, opposes the new restrictions. "We're opposed to such restrictions, primarily because e-cigarettes don't contain tobacco and they don't emit smoke," association executive director Cynthia Cabrera told Bloomberg News. "These bans have the potential to stifle the growth of the category."
As the FDA weighs whether to regulate e-cigarettes, manufacturers have been scrambling to urge legislators to oppose regulation of the product. Lorillard Tobacco has spent millions of dollars lobbying on behalf of its blu eCigs brand, which it purchased in April for $135 million. The firm's lobbying team includes former House speaker J. Dennis Hastert and several other former members of Congress.
-Steve Straehley
To Learn More:
E-Cigarettes, by Other Names, Lure Young and Worry Experts (by Matt Richtel, New York Times)
L.A. Council Approves Restriction of E-Cigarette Industry (by James Nash, Bloomberg News)
$2-Billion E-Cigarette Industry Unleashes Lobbying Blitz to Limit Taxes and Regulation (by Noel Brinkerhoff and Danny Biederman, AllGov)
E-Cigarettes May be Less Harmful, but Also Lure More Kids into Smoking (by Noel Brinkerhoff, AllGov)