In About Face, Lithuania Investigates Claim of CIA "Black Site" Imprisonment
Saturday, February 22, 2014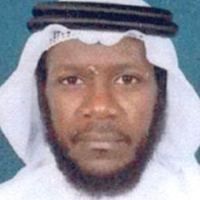 Mustafa al-Hawsawi (AP photo)
Officials in Lithuania have decided to investigate whether the Baltic nation participated in the Central Intelligence Agency's (CIA) secret rendition program of harboring terrorism suspects at "black site" prisons.
The decision marks a turnaround for Lithuania, which previously refused to probe its government's involvement in the counterterrorism scheme operated during the George W. Bush administration.
The French newswire service Agence France-Presse reported Lithuanian prosecutors are probing to learn if detainee Mustafa al-Hawsawi was imprisoned at a secret CIA location outside the capital city of Vilnius between 2004 and 2006.
The Centre for Research on Globalization says the CIA set up its prison at a converted riding school, where at least one new building was constructed near a forest.
Human rights groups have reported that another rendition victim, Abu Zubaydah, may also have been held in Lithuania. They also praised prosecutors for looking into the allegations of Lithuania's involvement.
"We certainly hope that it will serve as an example for other countries," Sarah Fulton, an attorney with Redress, told AFP. "And we trust that the investigation will be carried out to get to the bottom of these allegations."
Prosecutors say they want to know if any laws were broken during the transportation of prisoners to and from their country.
The investigation is not the first of its kind in Lithuania.
Prosecutors started once before to examine the controversy but gave up in 2011 after failing to uncover enough evidence.
Also, Lithuania's parliament reported in 2009 that the CIA may have had two black sites in the country.
-Noel Brinkerhoff
To Learn More:
Lithuania Opens Probe into CIA 'Black Site' Allegations (Agence France-Presse)
U.S. Black Sites: "Open Europe", Shut Case – Lithuania Denies CIA Prison Evidence (by Crofton Black, Global Research)
U.N. Calls on Obama to Publish Findings on Bush-Era Torture (by Noel Brinkerhoff, AllGov)
These 54 Governments Secretly Supported the CIA's Kidnap-and-Torture Program (by David Wallechinsky, AllGov)