Salaries of Female College Grads Stop Growing at Age 39; Males at 48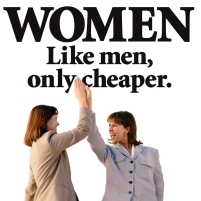 Women earn less money than men in the workforce as a general rule. They also peak at a younger age, it turns out, in terms of salary growth.
According to the company
PayScale
, college-educated women on average reach their pay ceiling by age 39. The pay for these females by this time is about $60,000.
Meanwhile, men with college degrees don't max out until age 48, by which time their average salary is $95,000.
Pay discrepancies between men and women begin right away after finishing school. Male workers start out making an average of $40,800, while females only earn $31,900.
By the time people reach their thirties, women's earnings begin to slow. This may be in part due to female employees' decision to have children and leave the workforce for a period of time, beginning around the age of 30.
-Noel Brinkerhoff
To Learn More: