Parents of Only U.S. Soldier Held as POW in Afghanistan Don't Trust Obama to Help in Election Year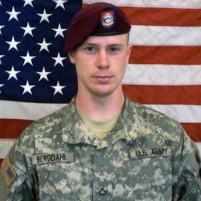 POW Bowe Bergdahl
Parents of Army Sergeant Bowe Bergdahl, the only U.S. soldier being held prisoner in Afghanistan, have said election-year politics are getting in the way of President Barack Obama negotiating their son's release.
Captured in 2009, Bergdahl is reportedly the captive of the Haqqani network, which is allied with the Taliban. But the Taliban could hold the power for the sergeant's release, if the Obama administration can reach an agreement on a prisoner exchange involving some of the detainees at Guantánamo Bay, Cuba.
Bob and Jani Bergdahl recently went public, telling a local newspaper in Idaho that they believe their son could be brought home through aggressive negotiations.
"Everybody is frustrated with how slowly the process has evolved," Bob Bergdahl told the Idaho Mountain Express.
In an interview with The New York Times, he said: "We don't have faith in the U.S. government being able to reconcile this." Bob Bergdahl added that negotiations with the Taliban have stalled because Obama is reacting to pressure from Congress in an election year not to negotiate with terrorists.
"Because it is an election year, this is something that is a political liability," he told The Wall Street Journal.
-Noel Brinkerhoff
To Learn More: